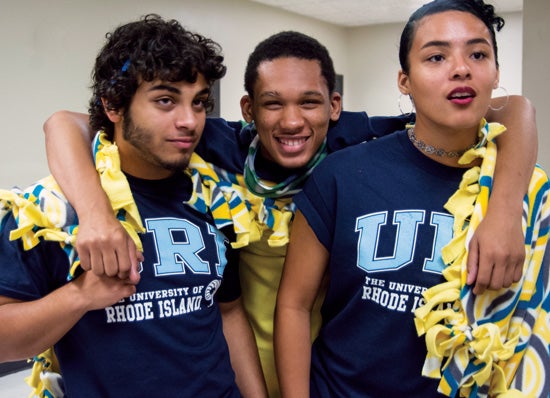 The chaotic early lives many foster children experience can have far-reaching consequences, including abysmal college completion rates. A groundbreaking program is setting out to change that, helping abused and neglected children create better todays, and tomorrows.
By Dave Lavallee '79, M.P.A. '87
Jenelle is doing two important things this fall: beginning her first year at the Community College of Rhode Island, and defying the odds.
Then there's Rashae, a Coventry High School senior, who has turned from being a lackluster student into one who earns "A"s. Instead of avoiding school and dreading her classes, she now has college in her sights.
Ian was already a motivated student, but says he's more comfortable in social settings these days. The key: meeting fellow high school students from many different backgrounds who all shared a fundamental similarity with him. The experience, he says, helped change his perspective on himself, and on the people around him.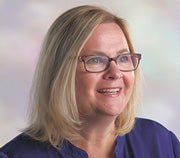 A Novel Partnership
Karen Davis '82, senior vice president of global philanthropy and social impact at Hasbro, Inc., said she saw the good work being done by the nation's inaugural First Star Academy at the University of California Los Angeles, a program backed by Hasbro.
"I asked them to give us a chance to pilot a second academy in Rhode Island," Davis said. "I met with Adoption Rhode Island, and we had a great meeting with (President David M.) Dooley, who embraced the idea and ran with it."
The small team has been working to change the future for foster children in Rhode Island.
"If we ever expect them to have better outcomes, we need to provide the supports," she says. "For us, the most wonderful thing so far is the number of kids in the process of being adopted. We didn't expect it, but now the way they are presenting themselves, people believe in them."
Now Davis is asking URI alumni to be part of the program, either by supporting it financially, being guest lecturers, or serving as mentors.
Darlene Allen, executive director of Adoption Rhode Island, said First Star Academy is one of the most innovative programs in Rhode Island for young people, particularly foster youths.
"For many in our program, it was the first time they had stepped on a college campus. They think of themselves as Rams and that the Kingston Campus is their space, their place. They really feel it's like home," Allen says. "This program is a tribute to the model we have here in Rhode Island. URI, Hasbro, the Department of Children, Youth and Families and Identity Theft 911 are putting their strengths together to build a successful program."
Thomas R. Dougan, URI vice president for Student Affairs and board member of the First Star Academy, plays a major role in making things happen on campus for the program.
"Obviously, the students who are with us for a month benefit from what we provide, but we here at URI benefit from our work with these young people as well," Dougan says. "They have faced and overcome tremendous challenges in their young lives, and their stories of perseverance inspire us all." •
If you would like to donate to First Star Academy go to urifoundation.org/giveonline and note that your gift should support First Star Academy. If you'd like to volunteer, please email Director Merry Caswell at caswellm@uri.edu.
All three are young people who have come up through Rhode Island's foster care system (their last names are withheld to protect their privacy). The reason for their recent successes is an innovative program established in 2012 to prepare foster children for success in college: First Star URI Academy.
Across the country, fewer than 3 percent of former foster children earn four-year degrees—compared to 30 percent of the general population. And that's only the beginning of the grim statistics. Half of the young people in foster care don't even graduate from high school. More than 24 percent of former foster children who leave the system when they reach adulthood report being homeless, and 47 percent report being unemployed one year after leaving the system. Researchers suspect traumatic histories are often to blame, with many foster children having experienced psychological mistreatment, abuse, neglect, or separations from parents and siblings.
Jenelle, who graduated from West Warwick High School in June, is one of the first from URI's First Star to enroll in college. Once she earns her associate's degree, she plans to pursue a bachelor's degree as part of her goal of becoming a social worker.
"I was helped by being around other foster youths who have experienced the same things as me," says Jenelle.
"I was also able to help them express their feelings. It really opened my eyes to the huge challenges faced by students in foster care. I was able to get into a fantastic foster family where I received tremendous support. It really made me see how lucky I was to have that opportunity. Many of the kids don't have that."
She says she acquired new skills and attitudes during her three summers in the program: "I think one of the biggest things was confidence building. I didn't really think I could achieve until I went through First Star."
Rhode Island might, at any time, have some 250 children in the foster care system, waiting to be adopted. About half are older than 11. But of the 150 or so kids adopted each year, most are younger, with only 8 percent falling between 14 and 17 years old. Up to 100 might age out of the system each year at 18, having never gained a permanent home.
First Star aims to reach out to some of those older teens. So far, 25 young people have participated in the program, with monthly activities year-round, school year mentoring and support, and a four-week residential program at URI each summer during which they participate in high school and college level courses, as well as getting a primer on the process of applying for, and succeeding at, college—from financial aid to cooking lessons. All of the participants are on track to finish high school, and most have improved their grades.
The program is made possible by a private-state partnership between URI, Adoption Rhode Island and the state Department of Children, Youth and Families, with founding support from Hasbro, Inc., as well as the support of Identity Theft 911 (because foster children are more likely to have their identity stolen).
The annual four weeks at Kingston—this year, 14 foster children stayed at a fraternity building, with First Star staffers on site round the clock—included hearing from guest lecturers, eating in the campus dining hall, learning about animal care and management at Peckham Farm, taking college classes, and enjoying a day at Six Flags New England.
Monthly outings include visits to other colleges and to URI sporting events. Each month, the students are also given 15 words likely to show up in the Scholastic Aptitude Test, and they must learn to spell the words, understand their usage and use them in sentences. During the 2013 academy at URI, the students wrote essays and poems for a booklet titled, Peek Into My Pain: Reveal My Strength.
"These are college-level words," said Merry Caswell '75, director of the program since June 2013. "As an incentive to work hard on this exercise, we give the students Dunkin' Donuts gift cards. We also review the college Common Application and have them write essays. We give them flash drives so they can share their writing with their guidance counselors in preparation for their college essays."
Caswell said the goal each year is to enroll students who will be high school freshmen or sophomores in the fall, so that they will be able to take advantage of the program for three to four years.
"Students must apply, write an essay and participate in a face-to-face interview to be admitted," Caswell said. "We are interested in students who want to better themselves and who have an interest in pursuing post-secondary education. The college credits they earn are entered into each student's record so they can be applied to the college of the student's choice."
But it's not strictly academics. "This year, we did the URI ropes course through URI's leadership program, horseback riding and kayaking on Wood River," Caswell said. "In the past, professors have come in to talk about various majors, and on Saturdays, we involve the students in enrichment activities such as cooking, pottery and learning hip-hop dance. We take them to the beach, skating at the Boss Arena and swimming at the Tootell pools."
The students say the program is working. "We learned that we can be treated like anyone else," Jenelle says, "and to never let what happened in our past determine who we are."
She was invited to give a speech during a Congressional Listening Tour panel at Rhode Island College, during which she suggested changes to the foster care system.
Jenelle has cerebral palsy and was placed in foster care when she was 6 because her grandparents could no longer care for her. She says she was lucky to be placed with a great foster family, but she wishes she could have seen more of her grandparents as she grew up. She'd like the system to allow more frequent visits with siblings and extended family members because they can provide support, too.
When it was time for graduation from high school, Jennelle said, "My foster family, my mother and father and grandmother were there. When I walked across the stage to get my diploma, I received a standing ovation from the entire audience."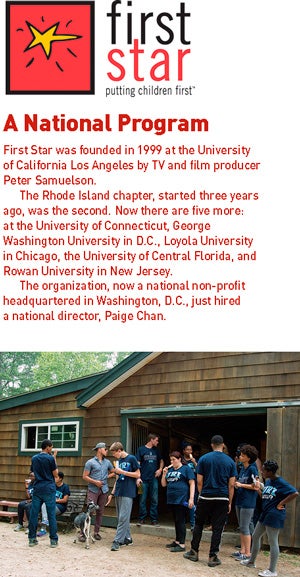 Rashae, the Coventry High School senior, previously missed classes regularly because she would oversleep. Her absences led to failure in some classes.
And when she first entered First Star four years ago, she had trouble handling the early wakeup calls, living with strangers and the expectations of the staff. But she has responded to every challenge and has transformed herself from a high school student with a 2.0 grade point average to one with a 4.0.
"I didn't know what to expect, especially taking classes in the summer," Rashae says. "No one wants to take classes in the summer, especially college classes. But now I am actually thinking about going to URI."
She said she once struggled with time management, but First Star helped her figure it out: "I learned from the staff. I very much appreciate what they have done for me. They gave me opportunities and they were my role models."
The students had trouble getting along at first. "But the more we talked with each other, the more we learned," Rashae says, "and the more we wanted to talk with each other. We bonded and now some of my best friends are from First Star. That's because we understand each other's lives. Not many people can understand what we have been through."
And she has grown to think of URI as a second home. "I like how organized things are here on the campus, and everything is clean and nice. I want to major in business management and go to work for a major corporation. I didn't know what I wanted to do when I started."
Ian just finished his third year at First Star and is beginning his junior year at Cranston High School East.
"Because I have actually experienced what being on a college campus is like, it's much more relatable," Ian said. "Also, being with a group of teenagers helped me improve my social skills and prepare me well for college. I know I will have to give oral reports in college, and later on, especially with employers, so this is good practice."
In his first year in the program, the class took a cultural competency course, which "helped us learn about different cultures, that everyone is equal, and how to interact with each other," he says. "I very much want to go to college. I like history, English is a strong subject for me, and I also like psychology and technology. I would like to go to college somewhere in Rhode Island. I am already pretty familiar with how URI works, and so I feel that would be a great option for me. It's beautiful and there are lots of nice people who work there. •