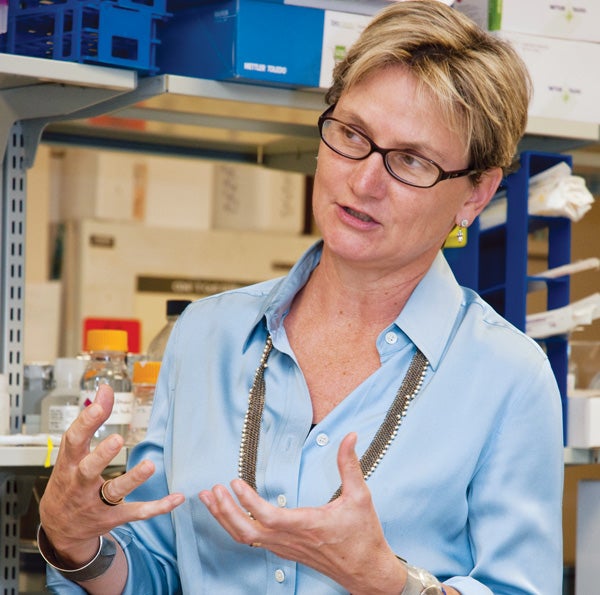 Not all flu vaccines are created equal, and some flu viruses are better than others at beating them. The H7N9 avian influenza virus in particular has been called  a "stealth virus'' because of its ability to evade the human immune response, both in natural infections and in vaccine formulations. H7N9 vaccines developed using conventional methods have significantly underperformed in clinical trials.
Research professor Annie De Groot, director of the URI Institute for Immunology and Informatics, and her team at EpiVax think they may be on to a solution: immune engineering vaccines to be more effective. The National Institutes of Health awarded the company $600,000 this fall to bring the concept to trials.
Re-engineering the viral proteins in a vaccine may produce more of an immune response without modifying their ability to generate protective antibodies to the original "wild-type" version, De Groot explains.
The first version of the vaccine from EpiVax will soon enter a trial in Australia in collaboration with Vaxine in Australia and Protein Sciences Corp. in Connecticut.
H7N9 influenza emerged in China in 2013, and has one of the highest mortality rates among all avian influenza viruses for humans. Although sustained human-to-human spread of this virus has yet to occur, the high mortality rate of the virus is of great concern should it develop pandemic potential, De Groot says.
"We are fortunate to have Dr. Annie De Groot and her team conducting innovative biotech research here in Rhode Island," says U.S. Senator Sheldon Whitehouse. "This federal funding is a boost for EpiVax's work to engineer new vaccines and an investment in Providence's life sciences industry."
Photo: Nora Lewis