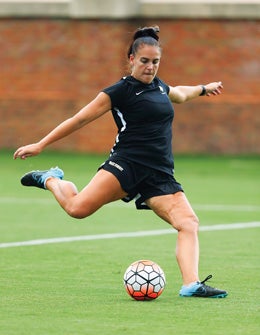 Director of Athletics Thorr Bjorn announced Megan Jessee as the ninth women's soccer head coach in program history this spring.
"We are thrilled to have Megan join the Rhode Island Athletics family as our new women's soccer head coach," Bjorn said. "She has enjoyed success at every level of soccer and possesses the passion, energy and leadership qualities that we sought. I am excited to work with her."
In nine seasons with Wake Forest's Demon Deacons, Jessee was responsible for the day-to-day operations of the women's soccer program. She worked with the Demon Deacon goalkeepers, totaling 86 shutouts during her tenure—including 15 shutouts in 2009 and 14 in 2011, which rank as the two highest totals in school history.
"After playing at UConn and growing up in Pennsylvania, I couldn't be more excited to get back to my roots in the Northeast," Jessee said. "The women's soccer program has a history of success and I look forward to helping the Rams return to national prominence."
Jessee helped guide Wake Forest to the 2010 Atlantic Coast Conference team title and six NCAA Championship appearances. In 2009, the Demon Deacons program reached historic heights, advancing to the quarterfinals of the NCAA Championship and finishing with a final national ranking of No. 8 in the country.
Before her time at Wake Forest, Jessee spent a year as the women's soccer graduate assistant at Slippery Rock University. At Slippery Rock, Jessee coached the field players and goalkeepers and helped with recruiting and team operations.
Jessee also has coached for the Connecticut Olympic Development Program, the FSA Soccer Plus Football Club, Soccer Plus Camps and the Region 1 ODP Girls Soccer Camp.