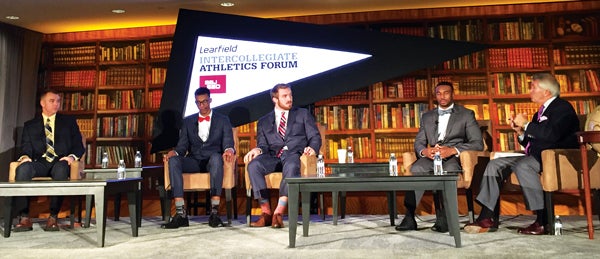 Senior baseball player Ben Wessel participated in the Learfield Intercollegiate Athletics Forum at the Marriott Marquis in Times Square, New York. Here is an excerpt from his GoRhody.com blog, Wessel's Words:
The forum that I participated in was hosted by Jack Ford, a legal analyst and correspondent for 60 Minutes Sports. I was one of four Division I athletes to speak on this panel, the others being DeVon Edwards (Duke University football), Brooks Ellis (University of Arkansas football) and Trey Lowe (Temple University basketball).
Going into this thing I really had no idea what to expect. I was given a list of sample questions in advance, so I familiarized myself with those, but none were on the list of questions Mr. Ford asked us. Mostly he just asked for our thoughts and opinions on different things, so we were required to think quickly and just respond off the top of our heads.
So at 9 a.m., Mr. Ford, the other athletes, and myself were sent out on stage. At first, I was shocked at what I saw: cameras were everywhere in the first couple of rows, the seats in the audience kept going further and further back to the exit doors. Mr. Ford had us sit in alphabetical order, which gave me an advantage because I was the last one to answer, allowing me to think about the question for a little bit longer.
When the lights turned on and the cameras started rolling, we had 30 minutes on stage. The first couple of questions were about expectations, and if our expectations coming in as a freshman to our respective universities matched with the experiences we have gained, both athletically and academically. The next question we were asked was whether, as athletes, we felt as though we fit in with non-athletes in the classroom. We finished up with the age-old question: should Division I student-athletes be paid? To avoid a whole separate discussion about these questions, I will not share my answers, but of course, this topic was a heated debate at the forum.
My story at URI hasn't been the smoothest or the easiest. I've had to deal with recovering from Tommy John (elbow ligament) surgery as a freshman and managing Type 1 Diabetes every day of my life, to having significant challenges in the classroom my first three years—to the point where I almost failed out of school. So there was definitely plenty for me to talk about. And as odd as it may sound, I think that going down to Columbia, S.C. for regionals last year, and playing in that incredibly charged environment, helped prepare me for this experience.
I met many people in my time in NYC who have a big role in today's NCAA, so that was pretty cool. Overall, it gave me an opportunity to reflect on myself and think about the example I can set for the younger guys who may be going through the same situations I've experienced. If you were to go back in time and ask Ben Wessel from freshman or sophomore year to travel (solo!) down to New York City to speak at an Intercollegiate Athletics Forum, in front of hundreds of people, to represent the Division 1 athletic population, I promise you I would have laughed and assumed you were joking. So, it was kind of nice to take a moment to think back on all the support I have been given, from my family back home, to the coaching staff here after Coach Cerrato took over, to teammates and others along the way. These people are the reason that now, as a fifth-year senior, I was able to take advantage of this awesome opportunity, and leave feeling as though I represented the University of Rhode Island, as well as myself, very well.