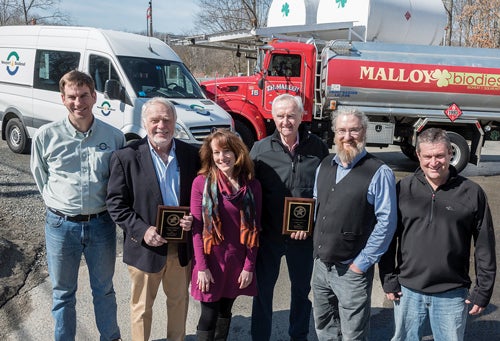 Two pioneering companies have been recognized for cutting carbon emissions, reducing the use of petroleum, and promoting and utilizing alternative fuels, all while powering a fleet of vehicles to run their businesses.
URI's Ocean State Clean Cities Coalition recognized Malloy Energy in Cumberland and Newport Biodiesel in Newport, along with Oakhurst Dairy in Maine and New Hampshire, the City of Boston, the City of Nashua, N.H., the University of Vermont, and the Greater Portland Transit District in Portland, Maine.
"Malloy Energy and Newport Biodiesel show what an amazing impact small business can have in our state. Both companies stand out as regional leaders in the alternative fuel industry," said Wendy Lucht, Ocean State Clean Cities coordinator.
Malloy Energy and Newport Biodiesel were selected because 100 percent of their vehicle fleets run on biodiesel. Malloy's vehicles used nearly 7,800 gallons of biodiesel fuel instead of diesel in 2014, while Newport Biodiesel vehicles used approximately 7,500 gallons of biodiesel.