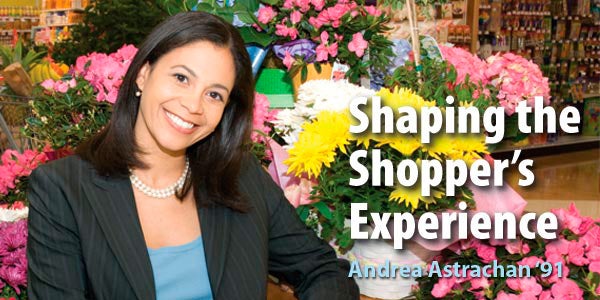 "It's daunting to pick at 18 what you want to do for the rest of your life. It's unfair, especially when you are interested in so many things," says Andrea Astrachan '91, who changed her major six times."I enjoyed natural resources science, journalism, and even flirted with the idea of physical therapy."
Frank Costigliola's History 101 class ultimately drove this student with elevated intellectual curiosity to major in history and study law.
"I fell in love with history. Professor Costigliola was so engaged that I became engaged. The professors were so supportive and connected with me because they saw that I loved the subject matter. They encouraged me to go to law school."
Astrachan, a well-rounded student who was a resident assistant in Browning Hall, a member of the women's crew team, and a volunteer at a homeless shelter in Wakefield, earned a law degree at Howard University in Washington, D.C. Recruited before graduation by the Attorney General's office in Rhode Island, Astrachan joined the appellate division, arguing the state's case against convicted child molesters, rapists, and murderers before the Rhode Island Supreme Court.
"I was very interested in criminal law, so the A.G.'s office was a dream job out of law school—a great experience. It gave me the opportunity to work with really bright colleagues, and obviously, I have the highest respect for the Supreme Court."
Nonetheless, Astrachan wanted more. Like her younger self in undergraduate school, she knew there were varied paths to follow and myriad career options. Searching for the right professional challenge led her to the Stop & Shop supermarket chain and its sister company, Giant Food, where she serves as vice president of consumer affairs. In this highly visible role, Astrachan advocates for the customer and reaches out to patrons through different channels. Customers of both chains may be familiar with her column in the weekly circular or with her healthy food tips broadcast in the supermarkets.
"I am the liaison between the company and the customer, and I represent the customer's point of view to management. Based on the feedback we receive, I advocate for the customer's interests."
According to Astrachan, customers are not shy about offering comments about everything from products to promotions to prices. She and her team of 30 reps field 80,000 customer comments submitted by email, letter, and telephone annually. Whether a customer contacts the company requesting healthier snack selections for children or recipes for nutritious meals that can be prepared in 30 minutes, each comment or inquiry is documented, and every customer receives a response.
From this feedback, Astrachan will make merchandising recommendations and/or develop programming that will enhance the shopping experience of her customers. In implementing changes or new initiatives, such as removing barrels of mixed nuts from the aisles to protect children with airborne allergies, Astrachan focuses on health and wellness.
"When I spoke to parent-teacher organizations and asked how we could be more helpful, parents told me to assist them in making fruits and vegetables more appealing to their children. They lamented that nothing in the produce section was exciting to kids."
In response, Astrachan developed Kids' Corner in every store's produce department. In this area, children can find activity sheets with characters from Nickelodeon who promote a particular fruit or vegetable and a recipe featuring that ingredient. The goals of the program are to encourage children to find the item in produce and to follow the recipe with their parents at home.
"As a mom, I know how enticing characters on sugary cereal boxes and snack packages are to children. Using the same concept, I am able to divert their interest to healthy foods."
Astrachan's efforts in promoting proper nutrition have gained the attention of New York senator and presidential hopeful Hillary Clinton, who supports improved access to healthy foods by schools and restaurants. Astrachan led the senator on a tour of a New York store to highlight how the company supports the same goal.
In transitioning from the courtroom to the checkout aisles, Astrachan has found a professionally satisfying niche in the supermarket industry. In her seven-year tenure at Stop & Shop, she has worked in roles of increasing responsibility in the human resources department before joining consumer affairs, and she lauds the company for giving her the chance to grow and pursue new opportunities.
Taking on her current position is her biggest challenge to date, as she is only the third person to hold the vice president of consumer affairs title. Her immediate predecessor, Odonna Matthews, held the position for 33 years and has been described as a "legend in her own right," while the first vice president, the late Esther Peterson, was the renowned consumer advocate and Presidential Medal of Freedom recipient who worked in the Lyndon Johnson and Jimmy Carter administrations.
"I have a lot to live up to. I trained with Odonna for a year, and she really inspired me. She's a mentor. The lesson I learned from both women is that you always represent customers by speaking openly and honesty and always advocate on their behalf. I view my role as carrying on a great tradition, and I don't take that lightly."
To continue this legacy of greatness, Astrachan is immersing herself in the health and wellness and consumer affairs arenas. She is a member of the Society of Consumer Affairs Professionals and serves on the board of the Produce for Better Health Foundation, a nonprofit dedicated to promoting the consumption of fruits and vegetables to create healthier Americans. Further, she is pursuing an M.B.A. at Suffolk University in Boston in order to become a more well-rounded business person and to gain strategic management expertise.
Managing a full-time job that requires traveling weekly, part-time graduate studies, and a young family can be overwhelming at times, but Astrachan thrives in ever-changing environments. "I attempt a balance, but if life isn't crazy, I'm not happy. I feel lucky to work for such a great company. There's so much variety in what I do, and I enjoy every aspect of my life."

By Maria V. Caliri '86, M.B.A. '92