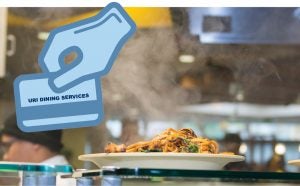 Share a Swipe for Hope Campaign
The University of Rhode Island is continuing the Share a Swipe for Hope campaign launched in the Fall of 2018 to combat food insecurity on campus. At a time when one in three U.S. college students faces food insecurity, URI students can make an immediate difference by donating some guest passes. Students experiencing food insecurity are encouraged to apply to request meal passes. Read the eligibility requirements before completing your application.
---
Donate Dining Dollars
Students can donate Dining Dollars online through Grubhub (for on-campus Mobile Ordering). Available on the App Store or Google Play. GrubHub is our new on-campus mobile ordering platform!
To donate in the app:
Open the Grubhub App.
Scroll down to "Meaningful Monday Meal Donation".
Under "Categories" click on "Meal Donation" or, if you have previously donated , you can just click on "Previously Ordered Grab & Go Meal".
Click/Touch on "Add to bag 1M".
Click/Touch "View Order".
Click/Touch "Proceed to Checkout".
Click/Touch "Place your pickup order: 1M".
Then the order will be placed.
(There is no need to order food or anything else.)
You may also donate Dining Dollars by visiting the Dining & ID Office on the second floor of the Union.
Request Meals
Students can request meal passes by filling out this application form. Once your request is reviewed, you'll receive an email notification. The process is easy and confidential.
Please Note: Students donating or requesting meal passes must use their e-Campus username and SSO password to access the forms above.