Meet Nathan Brown, one of this year's Coastal Fellows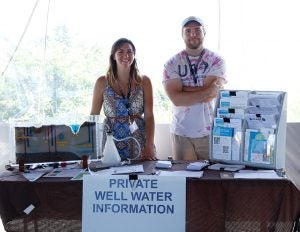 Nathan Brown is a URI senior majoring in majoring in Environmental and Natural Resource Economics.  He's from Westerly, Rhode Island.  Nathan has spent much of his summer with us providing education and technical assistance about water quality protection at local farmers markets and community event.  Here's what he had to say about his experience.
Why did you want to become a Coastal Fellow?
I wanted to become a coastal fellow so that I could spend my summer really engaging with my peers as well as the community about issues that are relevant to Rhode Island. Working with URI Cooperative Extension's private well education program has been a great way to help better inform the public about a very important topic – drinking water quality. I'm very excited about this work.
What are you most excited about doing this summer?
I think that I am most excited about the possibility to make an improvement in someone's life. Helping to communicate to someone that their drinking water quality is very important and helping them take steps to actively better that resource has the potential to make serious impacts in the quality of that person's life.
What is your favorite part about engaging with the public?
I think that one of the reasons I have always enjoyed engaging with the public is how passionate people can be about certain subjects, and it's impossible to tell until you start a conversation. Whether it's about their water quality, politics, or sports people always manage to surprise me.
For a schedule of upcoming events and to meet Nathan and his colleague, Jordanne Feldman, see our calendar.