Overview
Mission
The College of Health Sciences Collaborative Cognitive Neuroscience Lab (CCNL) at the University of Rhode Island is a multidisciplinary team of researchers dedicated to translational research which bridges innovative neuroscience with clinical practice. The community of scientists within the CCNL is invested in exploring the neural underpinnings of cognitive functioning to support improved diagnostic and therapeutic procedures in healthcare. By researching, teaching, mentoring and disseminating, information, our laboratory promotes synergistic science among scholars exploring the brain and human behavior.
About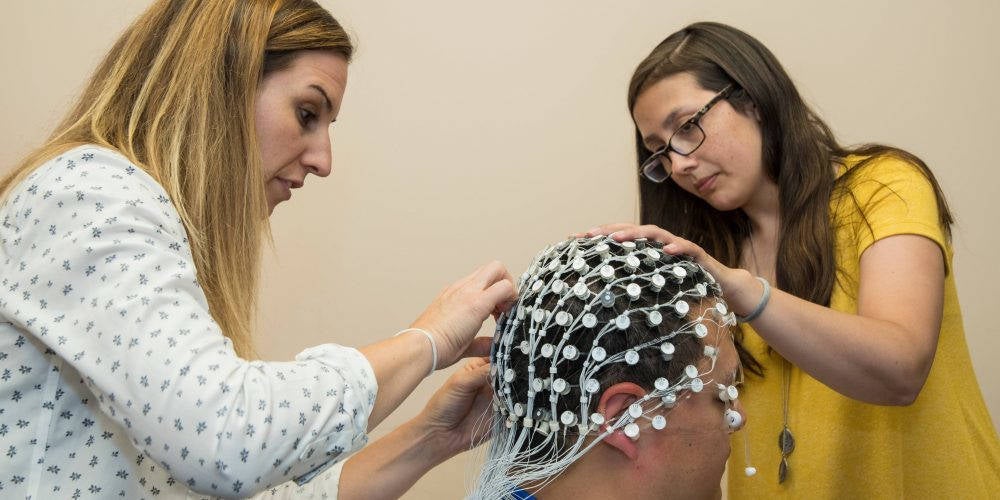 The Collaborative Cognitive Neuroscience Lab (CCNL) at the University of Rhode Island is comprised of researchers within the College of Health Sciences, including Kinesiology and Communication Disorders. The group is committed to working with scientists within CHS as well as other disciplines and partnered institutions to investigate neural mechanisms associated with cognitive health across the lifespan.
By using a multidisciplinary approach to tackle complex problems, our laboratory attempts to answer questions which require insight from several disciplines studying human behavior and the brain. The laboratory's goal is to foster collaborations among researchers using neuroscience to inform our basic understanding of the interaction between brain and behavior.
Our laboratory utilizes technologies such as eye-tracking and EEG to provide a window into the neural substrates associated with language and cognition.
The CCNL is dedicated to support teaching and mentorship of undergraduate and graduate students interested in cognitive neuroscience. We strive to be a research community which prepares students through innovative training to excel in future clinical and academic healthcare careers.
Our laboratory is funded through the College of Health Sciences as independent grants awarded to our scientists.
Current Projects
Autism study partnering with Haskins Laboratories
We are partnering with research scientists, Julia Irwin, Ph.D., and Nicole Landi, Ph.D., at Haskins Laboratories to better understand how children with autism spectrum disorder (ASD) learn language. We will employ EEG and eye-tracking technologies to study how children with autism (10-18 year olds) integrate visual information with what they hear compared to their typically developing peers and how that affects their ability to learn language.
This study will incorporate two child-friendly technologies, EEG and eye-tracking, to measure neurophysiological aspects of reading in both monolingual and bilingual 1st and 2nd grade children. In addition to EEG and eye-tracking, children will participate in language and reading assessments, both in English and in Spanish, to gather data on their learning profiles. The goals of the project include defining particular aspects of the learning profile for bilingual readers as well as identifying effective interventions to support reading achievement in bilingual and monolingual low SES populations.
People
Directors
Assistant Professor
Communicative Disorders
401.874.2677 – barona@uri.edu
Students
Former Students
Publications
Harwood, V., Kleinman, D., & Puggioni, G., Baron, A. (2022). The P300 Event Related Potential Predicts Phonological Working Memory Skills in School-Aged Children. Frontiers in Psychology, 13, 918046. doi: 10.3389/fpsyg.2022.918046
Baron, A., Connell, K., & Griffin, Z. (2022). Grammatical gender in spoken word recognition in school-age Spanish-English bilingual children. Frontiers in Psychology, 13, 788076. doi: 10.3389/fpsyg.2022.788076
Harwood, V., Preston, J., Baron, A., Kleinman, D., Landi, N. (2022). Event-related potentials to speech relate to speech sound production and language in young children. Developmental Neuropsychology, 47(2), 105-123. doi: 10.1080/87565641.2022.2036154
Harwood, V., & Arthur, D. (2021). An Error Analysis of Nonword Repetition Performance in Toddlers and Young Children: Theoretical Implications and Clinical Utility. American Journal of Speech-Language Pathology, 30(5), 2069-2079. doi: 10.1044/2021_AJSLP-20-00300