Engaging Generations (eGen): Cyber-Seniors
Overview
Since 2015, URI has worked with the international non-profit organization Cyber-Seniors ®: Connecting Generations whose goal is to "bridge the technology and generational gap by teaching older adults to use technology." Each semester, URI students mentor older adults to effectively use devices like smartphones, tablets and laptops. This has led to the URI Engaging Generations Cyber-Seniors Program providing assistance to over 1,690 older adults with about 490 student participants between 2016-2023.
Over 1,690
older adults assisted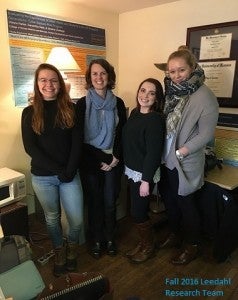 History
The award-winning documentary film, Cyber-Seniors, was the impetus for the University of Rhode Island Engaging Generations Cyber-Seniors Program. To strategically work towards enhancing experiential education for students, we had been looking to expand our intergenerational programming at URI, so we thought that technology would be the ideal medium to bring younger and older generations together. Using a reverse mentoring model, we saw potential for the program to be a unique learning opportunity for students to feel empowered to help others. We began partnering with community organizations to offer one-on-one and small group sessions, and we have grown the program overtime based on student, older adult, and community partner feedback.
Objectives
The program works to meet three objectives:
Promote civic engagement and service-learning for university students
Help prepare future health and human service professionals for careers in an aging society
Improve social connectedness and enhance technology skills for older adults in Rhode Island
Program Models
We have different models for students to meet with older adults. We work with community partners to decide what model would work best based on student availability, geographic location, partner scheduling needs, and older adults' interests.
One-on-One and Group sessions with URI student mentors. URI student mentors are available to meet via phone, virtual, or in-person at select community partner locations.
Zoom meetings. Faculty and student mentors facilitate meetings about various topics, including Rhode Island programs and health-related resources, and older adults sign-up to participate.
URI & Site Partnership. Faculty assign students in their classes to partner with a community site. Each student is matched with an older adult from that site to bridge the generational gap.