Jordanne Feldman, URI Coastal Fellow with URI Cooperative Extension's Water Quality Program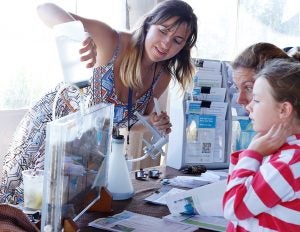 Jordanne Feldman is a junior at URI majoring in Geology with a concentration in hydrogeology. She's from New Hartford, NY. Before starting her Coastal Fellowship with us, Jordanne traveled to India with URI Professor Tom Boving to learn about water quality protection and remediation. Jordanne brings a wealth of knowledge and experience to her Coastal Fellowship. She, along with Nathan Brown, provides education and technical assistance to private well owners at farmers markets and community events throughout the state. Here's what she says about her summer.
Why did you want to become a Coastal Fellow?
I wanted to become a Coastal Fellow so I could gain hands on experience in my field, broaden my range of expertise, and engage with the community. I wanted to share my passion for clean water with my peers and the community and help educate people on the importance of drinking water safety.
What are you most excited about doing this summer?
I am really excited to learn more about public education and how to effectively communicate scientific knowledge to a broad range of audiences. I am looking forward to familiarizing myself with the community, Rhode Island in general, and the current water situations in each county. I am also excited to gain more knowledge about certain contaminants and how to treat in different situations.
What is your favorite part about engaging with the public?
I enjoy talking to people who have genuine concerns because they are always so appreciative when I offer them tip sheets or advice. I love feeling like I am making a difference in peoples' lives and that what I am doing is important. I also love the hunger for information some people seem to have about their well water, because it is a passion I also share.
Anything else interesting folks should know about you?                 
I love working on the topic of groundwater and groundwater remediation strategies.
For a schedule of upcoming events and to meet Jordanne and her colleague, Nathan Brown, see our calendar.