32
students accepted per year
The Physical Therapy Program at URI is a fully accredited Doctor of Physical Therapy degree program. Through an intensive three-year course of study, you'll learn foundational sciences, clinical sciences, evidence based practice, professional issues, and communication skills essential to becoming a competent doctor of physical therapy.
Mission Statement
The Physical Therapy faculty is dedicated to graduating doctors of physical therapy competent in providing physical therapy to a variety of patient/client populations in Rhode Island and nationwide; who value the need for and use of evidence in practice; who are committed to professional development through life-long learning; and are active contributors to their professional and social communities. The faculty aspires to advance the theory and practice of physical therapy and provide service to the University, State, and Nation, through works that promote the profession, interacting communities and related disciplines.
The Program is highly selective and seeks candidates who exhibit a combination of success in the sciences, a broad understanding of physical therapy practice, dedication to their community, and potential for success in the Program. The curriculum is designed to challenge students toward excellence in clinical practice, professional behavior, and service.
Program Philosophy
The faculty and staff of the Physical Therapy program believe:
In the inherent worth of the individual and that all individuals, in light of their unique qualities, should be given opportunities to develop to their fullest potential.
That behavior in all encounters will be at the professional level.
That graduates of the program must be prepared as generalists capable of functioning at entry level in a variety of settings.
That the curriculum of the Physical Therapy program is based on an accumulation of both empirical and applied evidence.
That scholarly activity is an integral part of clinical practice.
That all physical therapists should be doctors of physical therapy who function autonomously and are the provider of choice for movement related concerns.
That lifelong learning is critical to the continued competence of a profession and professional.
That service to the profession and the community will benefit both the individual and the profession.
Accreditation
The Doctor of Physical Therapy Program at the University of Rhode Island is accredited by the Commission on Accreditation in Physical Therapy Education (CAPTE), 3030 Potomac Ave., Suite 100, Alexandria, Virginia 22305-3085; telephone: 703-706-3243 or 800-999-2782 ext. 3243; email: accreditation@apta.org; website: http://www.capteonline.org. If needing to contact the program/institution directly, please call 401-874-5001 or email janes@uri.edu.
Accreditation by CAPTE is a statement that a physical therapist or physical therapist assistant education program meets the standards for quality set by the profession in areas including educational experiences, faculty, resources and student outcomes. Graduation from a CAPTE-accredited program is required for eligibility to take the national licensing exam. The University of Rhode Island has consistently been awarded the maximal accreditation level.
Comments, complaints, or concerns about the URI PT Program can be mailed to the American Physical Therapy Association, Attention: Accreditation Department, 3030 Potomac Ave., Alexandria, VA 22305-3085; Fax: 703-684-7343; or emailed to accreditation@apta.org.
The University of Rhode Island's Physical Therapy Program is a member in good standing in the American Council of Academic Physical Therapy (ACAPT).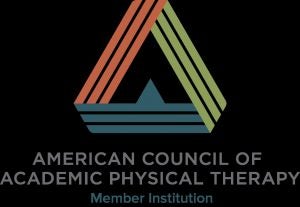 Professional Licensure Disclosure
In accordance with the 2019 Reauthorization of the Higher Education Act, URI hereby discloses only that the curriculum for this program meets the educational requirements for licensure as a Physical Therapist in all U.S. States and Territories. The applicable licensing board in these states may impose additional non-educational requirements on candidates prior to granting a license (e.g., passing of an exam; obtaining a certificate; performing supervised clinical/practicum hours; etc.), and we encourage you to investigate those requirements with your licensing board.
| Academic Program | States where curriculum meets educational requirements for licensure or certification |
| --- | --- |
| Doctorate in Physical Therapy (DPT) | All U.S. states, plus Washington DC, Puerto Rico, and the US Virgin Islands |