URI faculty and students conduct research on the musculoskeletal and neuromuscular systems, Workers' Compensation, professionalism, DPT education, and international issues. Research activities take place in modern facilities and with experts needed to develop effective and engaged clinical scholars. Students work collaboratively in teams, directed by faculty,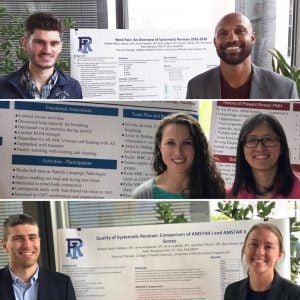 participating in a project spanning four semesters. Many of these projects are presented at national meetings.
Some of our current projects include:
Kinematic and kinetic analysis of gait and functional mobility
Effect of manipulation and exercise on cervicothoracic posture
Effect of trigger point dry needling in the upper trapezius muscle
Effects of Circumferential Pressure on Muscle Stiffness in Able Bodied People and People with CVA
Effects of exercise on balance for individuals with Parkinson's Disease
The effect of joint mobilizations and chronic pain on spinal reflexes, pain threshold
LSVT BIG Exercise-Induced Neuroplasticity in Patients with Parkinson's Disease
Geriatric acute and post acute falls prevention intervention: Physical Therapists influence in the ED and future direction
Implementation and outcomes of a community based Tai Ji Quan: Moving for Better Balance program for older adults
Effectiveness of student-led community-based Parkinson's Exercise Program (PEG) on improving function and quality of life of individuals living with Parkinson's disease (funded in part by a grant from the Parkinson's Foundation)
Validation of Wearable Technology
EMPOWER PD – Development and Feasibility of an Interdisciplinary "boot-camp" style clinic for People Living with Parkinson's Disease (funded in part by an Advanced- CTR Pilot Study Grant supported by the Idea-CTR grant U54GM115677)
Labs
Interdisciplinary Neuroscience Program Partnership
The Physical Therapy department partners with the University of Rhode Island Interdisciplinary Neuroscience Program (INP), which is composed of university faculty from six colleges and 12 departments who conduct neuroscience research. Physical Therapy participates with the INP in the areas of neuromuscular rehabilitation and applied neuroscience. Students interested in acquiring an advanced academic degree (MS, PhD), are interested in conducting research in this area and who are not currently matriculating in another university program are encouraged to apply to the INP.