For her undergraduate honors thesis, Isobel McCullough decided she would record the sonic profiles of seven southern Rhode Island beaches. The result, South County Soundscapes: Rhode Island's Vanishing Coastline, is an artistic investigation inspired by science, McCullough says.
"Acoustic ecology is a discipline that investigates the relationship between humans and their environments, and in this case the investigation is centered around the relationship of our coastal communities to nature as well as climate change and industrialization.
"The purpose of my project was to create unique soundscapes that depict the sonic environments of coastal communities in Rhode Island's South County. This is an area of coastline that has been drastically impacted by climate change and will be inevitably transformed due to coastal erosion over the next 50-to-100 years."
"Capitalism has a sound," McCullough notes.
McCullough recorded the soundscapes of beaches in four coastal towns: Narragansett (Kelly Beach, Narragansett Town Beach, Rose Nulman Park, and Salty Brine State Beach); East Beach, Charlestown; East Matunuck State Beach, South Kingstown; and Misquamicut State Beach, Westerly. Each soundscape has an accompanying essay and list of sounds recorded.
---
Each beach has a unique sonic identity
"Until I embarked on this project, I naively assumed that all beaches sound the same," McCullough writes in the essay accompanying Narragansett Beach's soundscape. "While the ocean is in many ways the same everywhere, it's the communities around each beach — both ecologically and culturally speaking — that lend each one its unique sonic identity."
The inspiration for Soundscapes was the sudden closing of Rose Nulman Park in January 2022. Facebook scrolling late one night, McCullough came upon a post about the closure of Narragansett's Rose Nulman Park due to beach erosion. Rose Nulman was special to McCullough; her parents had taken her and her sister there many times when they were children.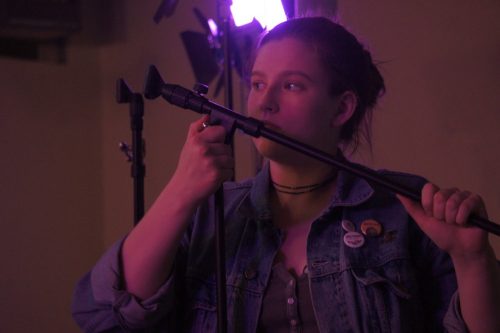 "The news set me on the path. Rose Nulman has a great mix of ocean, human interaction, and salt pond," McCullough says in the way you might speak about a wine's bouquet. And in a way that's what each soundscape is: the unique sum of its sonic notes.
South County's coastline has been amply preserved visually, through photographs, film, and other visual media but their sounds, not so much, McCullough says. "This collection will serve as an aesthetic time capsule of the unique auditory environment of this particular area of Rhode Island's vanishing coastline," she says.
McCullough's senior thesis advisor Ian Reyes says her work is a critical and sophisticated contribution to art inspired by the local environment.
---
'A greatest hits compilation for each location'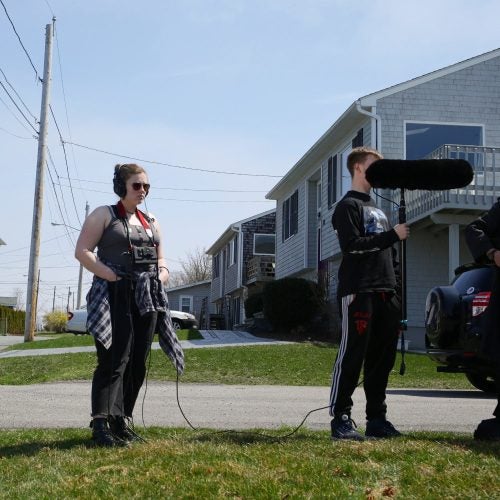 "I think of Isobel's soundscapes as portraits of iconic locations in our state. They're not purely documentary; she makes critical decisions about how to represent the unique 'personality' of each location. This requires thinking about temporality, perspective, and post-production techniques intended to create an impression of a natural environment that is, ultimately, a manipulation of the material that presents its best, most recognizable features, almost like a 'greatest hits' compilation for each location," Reyes says.
"If you consider the relationship between landscape photography, environmental conservation movements, and tourist economies, you can begin to understand how important this kind of art can be. Still, Isobel's work is quite different insofar as humans are typically visually-oriented; listening critically to environmental sound is not something most people do," Reyes continues. "So, above and beyond the subject of her work, her chosen medium also intervenes in this dominance of the visual in environmental art, asking people to open their ears and minds to new experiences that are always around us, if we can learn to listen."
McCullough expresses a wistfulness in talking about her soundscapes.
"By creating soundscapes for seven beaches around South County, I have preserved their unique sonic environments before they disappear forever."
Isobel McCullough '22
"I won't be able to share these places with my own children because they will be gone — not only the physical spaces but also these unique sonic environments, these soundscapes that have been so meaningful to me growing up. Now as an adult I know they're irrevocably going to fall prey to climate change.
"I hope that this project makes people want to engage with their sonic environments just a little more consciously," McCullough continues. "Be a part of them. Acknowledge your role in your sonic environments and appreciate them for what they are."