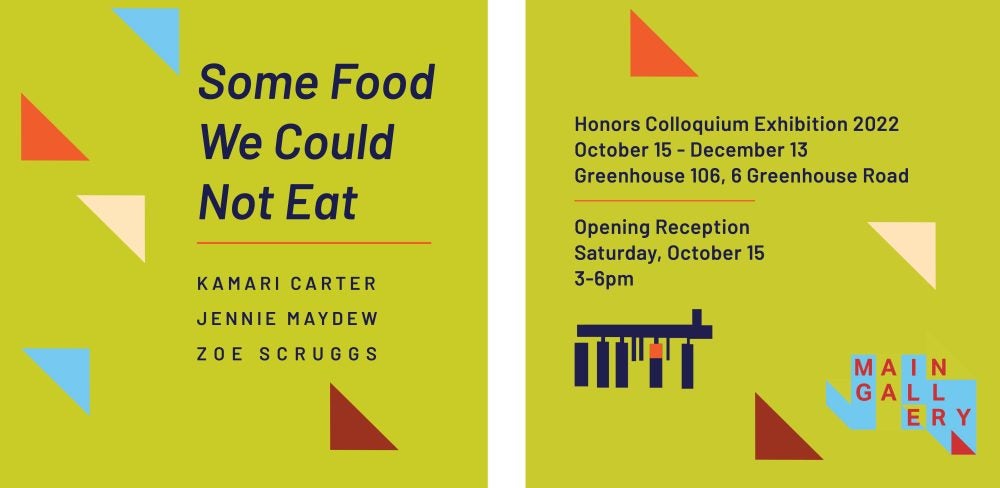 URI's Main Gallery is pleased to present Some Food We Could Not Eat, an exhibition in conjunction with URI's 2022 Honors Colloquium, Just Good Food, and sponsored by the College of the Enivronment and Life Sciences. The exhibition features the work of Kamari Carter, Jennie Maydew, and Zoe Scruggs, artists who are all interested in our food systems, and their effects on communities and culture. The exhibition is installed in Greenhouse 106, a space typically used for plant care and research.
Kamari Carter is a producer, performer, sound designer, and installation artist primarily working with sound and found objects. Carter's practice circumvents materiality and familiarity through a variety of recording and amplification techniques to investigate notions such as space, systems of identity, oppression, control, and surveillance. The piece Carter created for Some Food We Could Not Eat focuses on the children of the Peoples Temple Agricultural Project, better known as the infamous "Jonestown" cult. His installation uses an edited version of a recording from the day of the Jonestown mass suicide and 304 packets of Kool-Aid powder to meditate on these children taken in the name of "religious freedom".
Jennie Maydew is a maker and educator engaged in a textile-based social practice. Applying traditional craft methods and contemporary pedagogy, she creates wearable objects, textile conversations, and reciprocal learning environments. Jennie is showing a large paper and textile installation made from found, foraged, and waste materials, including some from the land around the URI campus. She is also installing an anthocyanin and betalain printing process that is activated by the sun in the greenhouse.
Zoe Scruggs is a multidisciplinary artist and musician. Much of her work is inspired by farmers, environmental justice activists, and black feminist cultural workers, and grapples with the ways Black American trauma is rooted in a relationship to land. For this exhibition, Scruggs has contributed two drawings reproduced as vinyl banners, and the score for an original song. These pieces come from Scruggs' study of systemic issues impacting agriculture, and the practice of "greenwashing," where corporations pretend to be more environmentally friendly than they are in order to attract customers concerned about climate change.
The exhibition opens October 15th, and will continue through December 13th. The Greenhouse is open to visitors 8am–4pm, Monday–Friday, with exceptions for university holidays. Please join us for an opening reception on Saturday, October 15th, from 3–6pm which will feature refreshments by Jennie Maydew that highlight the visual and edible qualities of anthocyanin and betalain—light-sensitive plant pigments that produce blue-red-purple colors and contain antioxidant properties.