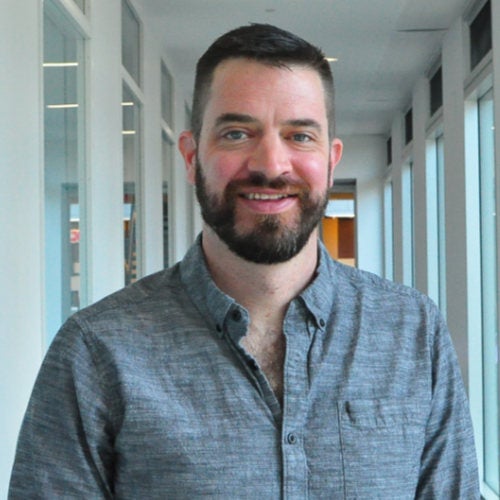 Biography
Awards
2020 – University of Rhode Island Advanced Career Faculty Research & Scholarship Excellence Award

2019 – College of the Environment and Life Sciences Research Excellence Award
Research
My lab focuses on the evolution of algae and microeukaryotes from a molecular, ecological and phylogenetic context. In particular, we are interested in the evolutionary mechanisms behind major lifestyle transitions, such as gain or loss of photosynthesis and changes across a spectrum of symbioses. We currently use red algae, apicomplexans and stramenopiles to investigate these questions. With a combination of microscopy, phylogenetic, metabarcoding and genomic techniques in the field and lab, we examine recent lifestyle transitions to determine how they occur.
Education
Ph.D. (Biology), 2004, University of New Brunswick, Fredericton, NB, Canada
B.Sc. (Biology), 1999, Trinity College, Hartford, Ct.
Selected Publications
Gregarine single-cell transcriptomics reveals differential mitochondrial remodeling and adaptation in apicomplexans ED Salomaki, KX Terpis, S Rueckert, M Kotyk, ZK Varadínová, I Čepička, …BMC biology 19 (1), 1-19

Reorganizing parasitic Delesseriaceae: taxonomic revision of Asterocolax JM Freese, CE Lane Phytotaxa 525 (2), 124-136

Using DNA barcoding to identify host-parasite interactions between cryptic species of goby (Coryphopterus: Gobiidae, Perciformes) and parasitic copepods (Pharodes tortugensis.GE Forrester, MT McCaffrey, KX Terpis, CE Lane Zootaxa 5048 (1), 99-117

Suitability of DNA sequencing tools for identifying edible seaweeds sold in the United States SM Handy, BM Ott, ES Hunter, S Zhang, DL Erickson, MM Wolle, …Journal of Agricultural and Food Chemistry 68 (52), 15516-15525

Roadmap for naming uncultivated Archaea and Bacteria AE Murray, J Freudenstein, S Gribaldo, R Hatzenpichler, P Hugenholtz, … Nature microbiology 5 (8), 987-994

Response to Preuss and Zuccarello (2020): biological definitions that can be unambiguously applied for red algal parasites ED Salomaki, CE Lane Journal of phycology 56 (3), 833-835

Proposal of the new genus Gazzaea (Rhodymeniaceae, Rhodophyta) to accommodate Botryocladia flookii CW Schneider, C Lane, D McDevit, G Filloramo Notulae Algarum 153

Codependence in the Nephromyces species swarm depends on heterospecific bacterial endosymbionts C Paight, ES Hunter, CE Lane BioRxiv

Metabolic contributions of an alphaproteobacterial endosymbiont in the apicomplexan Cardiosporidium cionae ES Hunter, C Paight, CE Lane Frontiers in microbiology, 3014

Nephromyces Represents a Diverse and Novel Lineage of the Apicomplexa That Has Retained Apicoplasts SA Muñoz-Gómez, K Durnin, L Eme, C Paight, CE Lane, MB Saffo, …Genome biology and evolution 11 (10), 2727-2740

Molecular phylogenetics supports a clade of red algal parasites retaining native plastids: taxonomy and terminology revised ED Salomaki, CE Lane Journal of phycology 55 (2), 279-288

Recruitment tolerance to increased temperature present across multiple kelp clades AF Muth, MH Graham, CE Lane, CDG Harley Ecology 100 (3), e02594

Nephromyces Encodes a Urate Metabolism Pathway and Predicted Peroxisomes, Demonstrating That These Are Not Ancient Losses of Apicomplexans C Paight, CH Slamovits, MB Saffo, CE Lane Genome Biology and Evolution 11 (1), 41-53

Revisions to the classification, nomenclature, and diversity of eukaryotes SM Adl, D Bass, CE Lane, J Lukeš, CL Schoch, A Smirnov, S Agatha, …Journal of Eukaryotic Microbiology 66 (1), 4-119
A list of our publications can be found at https://scholar.google.com/citations? hl=en&user=E05atB4AAAAJ&view_op=list_works&authuser=2&sortby=pubdate