Health Sciences researchers examine metabolic demands of snowboard cross
By Allie Lewis
Olympic medals are earned during the off-season, and research being conducted by professors and students at the University of Rhode Island could bring athletes that much closer to the podium.  
In partnership with Carrabassett Ski and Snowboard Academy in Maine, Kinesiology Department Chair Disa Hatfield, Assistant Professor Jacob Earp, and two students hit the slopes over spring break to look at the metabolic demands of snowboard cross.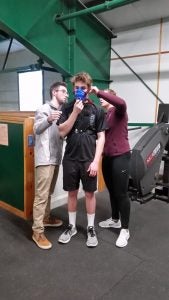 Although snowboard cross has now been included in several winter olympic games, not much research had been done on the relatively new sport, according to Earp.
"This was one of the first field studies with the sport where we actually went out to the snow and measured them on the slopes," Earp said.  
During their time at Sugarloaf Mountain, the team looked at two up-and-coming junior elite athletes, Emma Downing and Zach Stewart, who are both competitively ranked at the national level for their age group. Carrabassett's High Performance Director Shelby Downing and Snowboard Program Director Alex Tuttle helped make it possible to collect data on the athlete's aerobic power and lactic acid threshold.
On the first day of the study, Downing and Stewart hopped on a treadmill wearing portable metabolic carts — masks that measure oxygen consumption and carbon dioxide creation — and had small drops of blood taken to establish their peak performance levels. 
After establishing their baseline on the first day, the team members were able to compare it to the data collected on the slopes the following days. The study simulated a race day as closely as possible, with a course inspection, practice runs, time trials and four heats — all while Downing and Stewart continued to wear their portable metabolic carts for the collection process.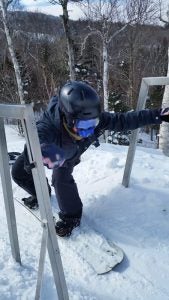 "By getting the treadmill test we can go back and see that 'Oh, your heart rate here is similar to your heart rate here where you're running at this speed,'" Earp said. "Hopefully, in the summer when all the snow melts and they can't be on the mountain, we can have them run around this speed, because that's where the stress was. The whole idea is to make the offseason conditioning more sport appropriate."
Although the team is still in their early findings stages, graduate student and snowboarding hobbyist Chris Hook hopes the data collected will help advance the sport, helping athletes improve their training regimen in the off-season.
The opportunity to take part in field research on top of a mountain presented some unique obstacles, but Hook said he's thankful to have conquered them.
"While extensive measures were taken while designing this study, of course not everything goes as planned," Hook said. "Being able to adapt so that all measures are taken properly and efficiently was the biggest challenge."

The trip helped provide Hook and undergraduate student Kassandra Lawrence with valuable, firsthand experience, said Earp, who's working with Downing to explore the possibility of future research collaborations. He's hopeful this could even turn into a J-Term program, so that more students could be exposed to this kind of experience.
"We're already in talks about what we're going to do next year," Earp said. "Personally, I think that's a great opportunity for our students."