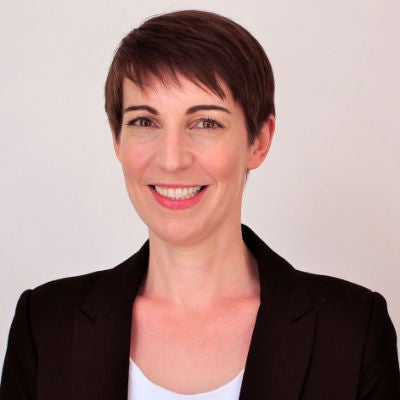 Biography
Kathryn Ramsey became fascinated by molecular biology during a summer program in high school and has been excited to understand how cells work since then. During her training, Kathryn had the opportunity to study a number of organisms, from Arabadopsis plants to the malaria parasite (Plasmodium falciparum) and the intracellular bacterial pathogen Francisella tularensis. Her lab pursues questions about basic gene regulation in F. tularensis, and plans to extend this work to other bacterial pathogens soon. Outside of the lab, Kathryn enjoys going on hikes with her dog, spending quality time with her other pets (cats and chickens), as well as gardening. Her personal goals include becoming better at fishing and learning Spanish.
Research
The goal of the Ramsey laboratory is to understand how bacterial cells regulate gene expression, ultimately to identify novel targets for antimicrobial development. We study basic mechanisms of gene regulation in the context of bacterial pathogens. The laboratory combines cutting-edge approaches and traditional genetic tools to identify the molecular mechanisms which allow the pathogenicity of highly virulent bacteria and in particular, how these bacteria control gene expression to thrive in the host environment. Understanding the molecular basis of bacterial pathogenicity is an important topic- one that will only become more relevant as the rise of antibiotic resistance increases the need for new and effective therapeutics.
Education
Postdoctoral Fellow, Boston Children's Hospital, 2014 – 2018
Ph.D., Harvard University, 2014
B.S., University of Massachusetts Amherst, 2004
Selected Publications
Trautmann HS, Ramsey KM. A Ribosomal Protein Homolog Governs Gene Expression and Virulence in a Bacterial Pathogen. J Bacteriol. 2022 Oct 18;204(10):e0026822. doi: 10.1128/jb.00268-22. Epub 2022 Sep 19. PubMed PMID: 36121290; PubMed Central PMCID: PMC9578407.
Finn MB, Ramsey KM, Dove SL, Wessels MR. Identification of Group A Streptococcus Genes Directly Regulated by CsrRS and Novel Intermediate Regulators. mBio. 2021 Aug 31;12(4):e0164221. doi: 10.1128/mBio.01642-21. Epub 2021 Jul 13. PubMed PMID: 34253064; PubMed Central PMCID: PMC8406183.
Travis BA, Ramsey KM, Prezioso SM, Tallo T, Wandzilak JM, Hsu A, Borgnia M, Bartesaghi A, Dove SL, Brennan RG, Schumacher MA. Structural Basis for Virulence Activation of Francisella tularensis. Mol Cell. 2021 Jan 7;81(1):139-152.e10. doi: 10.1016/j.molcel.2020.10.035. Epub 2020 Nov 19. PubMed PMID: 33217319; PubMed Central PMCID: PMC7959165.
Ramsey KM, Ledvina HE, Tresko TM, Wandzilak JM, Tower CA, Tallo T, Schramm CE, Peterson SB, Skerrett SJ, Mougous JD, Dove SL. Tn-Seq reveals hidden complexity in the utilization of host-derived glutathione in Francisella tularensis. PLoS Pathog. 2020 Jun;16(6):e1008566. doi: 10.1371/journal.ppat.1008566. eCollection 2020 Jun. PubMed PMID: 32492066; PubMed Central PMCID: PMC7340319.
Kambara TK, Ramsey KM, Dove SL. Pervasive Targeting of Nascent Transcripts by Hfq. Cell Rep. 2018 May 1;23(5):1543-1552. doi: 10.1016/j.celrep.2018.03.134. PubMed PMID: 29719264; PubMed Central PMCID: PMC5990048.
Rohlfing AE, Ramsey KM, Dove SL. Polyphosphate Kinase Antagonizes Virulence Gene Expression in Francisella tularensis. J Bacteriol. 2018 Feb 1;200(3). doi: 10.1128/JB.00460-17. Print 2018 Feb 1. PubMed PMID: 29158241; PubMed Central PMCID: PMC5763045.
Eshraghi A, Kim J, Walls AC, Ledvina HE, Miller CN, Ramsey KM, Whitney JC, Radey MC, Peterson SB, Ruhland BR, Tran BQ, Goo YA, Goodlett DR, Dove SL, Celli J, Veesler D, Mougous JD. Secreted Effectors Encoded within and outside of the Francisella Pathogenicity Island Promote Intramacrophage Growth. Cell Host Microbe. 2016 Nov 9;20(5):573-583. doi: 10.1016/j.chom.2016.10.008. PubMed PMID: 27832588; PubMed Central PMCID: PMC5384264.
Ramsey KM, Dove SL. A response regulator promotes Francisella tularensis intramacrophage growth by repressing an anti-virulence factor. Mol Microbiol. 2016 Aug;101(4):688-700. doi: 10.1111/mmi.13418. Epub 2016 Jun 10. PubMed PMID: 27169554; PubMed Central PMCID: PMC5020902.
McFarland KA, Dolben EL, LeRoux M, Kambara TK, Ramsey KM, Kirkpatrick RL, Mougous JD, Hogan DA, Dove SL. A self-lysis pathway that enhances the virulence of a pathogenic bacterium. Proc Natl Acad Sci U S A. 2015 Jul 7;112(27):8433-8. doi: 10.1073/pnas.1506299112. Epub 2015 Jun 22. PubMed PMID: 26100878; PubMed Central PMCID: PMC4500232.
Ramsey KM, Osborne ML, Vvedenskaya IO, Su C, Nickels BE, Dove SL. Ubiquitous promoter-localization of essential virulence regulators in Francisella tularensis. PLoS Pathog. 2015 Apr;11(4):e1004793. doi: 10.1371/journal.ppat.1004793. eCollection 2015 Apr. PubMed PMID: 25830507; PubMed Central PMCID: PMC4382096.