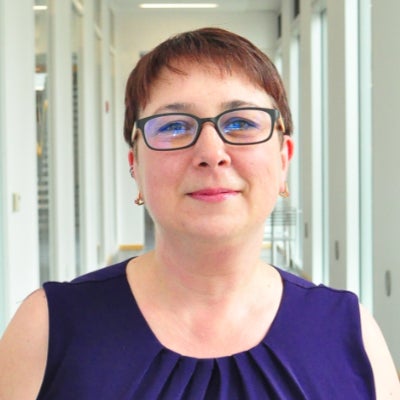 Assistant Teaching Professor
Phone: 401.578.7360
Email: ayrapetov@uri.edu
Office Location: Woodward Hall, Rm 236
Biography
Dr. Ayrapetov received her B.S. in Microbiology and Ph.D. in Cell and Molecular Biology at URI. She completed her postdoctoral training that focused on understanding how epigenetic changes in DNA contribute to cancer development and progression at Dana-Farber Cancer Institute. She has been teaching microbiology courses at URI on a per-course basis, and became a full-time faculty member in the Fall of 2021.
In the summer, she manages a family-operated vegetable farm with her husband and two daughters. This project started as a personal vegetable garden and evolved into an operation that supports local restaurants and the community. She has met and connected with so many great people who became much more than just customers.
Research
Broadly speaking, Dr. Ayrapetov's area of research interest is cancer biology. Her most immediate interests are in developing targeted therapeutics that improve patients' outcomes during chemo and radiation cancer treatment.
Her postdoctoral research was focused on developing a better understanding of how changes in epigenetic markers affect the recruitment of DNA damage repair machinery, reorganize chromatin architecture and allow assembly of a chromatin template that will serve as an efficient substrate for repair. Her laboratory developed a new molecular approach to identify key proteins that lead to the recruitment of DNA-damage repair machinery. She was able to establish a model that explains how the transient introduction of repressive chromatin is critical to the DNA-damage repair process.
She has also investigated key biochemical pathways that regulate sensitivity to chemo- and radiation therapies in cancer treatment with respect to DNA damage repair. Her research focused on the development of radioprotective and mitigating agents, which can be used to protect against exposure to ionizing radiation. She has demonstrated that prolyl-4-hydroxylase inhibitor, dimethyloxalylglycine, can serve as a radioprotector in mice treated prior to total body irradiation and identified Suv39h1 histone methylase as a novel medicinal target in development of radioprotectors.
Education
Ph.D., Cell and Molecular Biology, University of Rhode Island, 2006
B.S., Microbiology, University of Rhode Island, 2001
Selected Publications
Sun, G., Ayrapetov, M.K. Dissection of the catalytic and regulatory structure-function relationships of Csk protein tyrosine kinase. Frontiers in Cell and Developmental Biology. 2023 Mar 1; 11:1148352.
Ku, G.C., Chapdelaine, A.G., Ayrapetov, M.K., Sun, G. Identification of Lethal Inhibitors and Inhibitor Combinations of Mono-Driver versus Multi-Driver Triple-Negative Breast Cancer Cells. Cancers. 2022 Aug 20; 14 (16): 4027.
Huang, C., Zhang, Z., Chen, L., Lee, H.W., Ayrapetov, M.K., Zhao, T. C., Hao, Y., Gao, J., Yang, C., Mehta, G. U., Zhuang, A., Zhang, X., Hu, G., Chin, Y.E. Acetylation within the N-and C-terminal domains of Src regulate distinct roles of STAT3-mediated tumorigenesis. Cancer Research. 2018 Jun 1; 78 (11): 2825-2838.
Gursoy-Yuzugullu, O., Ayrapetov, M.K., Price, B.D. Histone chaperone Anp32e removes H2A.Z from DNA double-strand breaks and promotes nucleosome reorganization and DNA repair. Proceedings of National Academy of Science USA. 2015 Jul 12; 112 (28): E3750.
Ayrapetov, M.K., Gursoy-Yuzugullu, O., Xu, C., Xu, Y., Price, B.D. DNA double-strand breaks promote methylation of histone H3 on lysine 9 and transient formation of repressive chromatin. Proceedings of National Academy of Science USA. 2014 Jun 24; 111 (25):
9169-74.
Xu, Y., Ayrapetov, M.K., Xu, C., Gursoy-Yuzugullu, O., Hu, Y., Price, B.D. Histone H2A.Z control a critical chromatin remodeling step required for DNA double-strand break repair. Molecular Cell. 2012 Dec 14; 48 (5): 723-33.
Ayrapetov, M.K., Xu, C., Sun, Y., Zhu, K., Parmar, K., D'Andrea, A.D., Price, B.D. Activation of Hif1α by the prolylhydroxylase inhibitor dimethyoxalyglycine decreases radiosensitivity. PLoS One. 2011 Oct 7; 6 (10): e26064.
Xu, Y., Sun, Y., Jiang, X., Ayrapetov, M.K., Moskwa, P., Yang, S., Weinstock, D.M., Price, B.D. The p400 ATPase regulates nucleosome stability and chromatin ubiquitination during DNA repair. Journal of Cell Biology. 2010 Oct 4; 191 (1): 31-43.