Abbey Miklitsch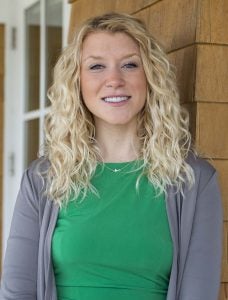 Hometown: York, Pennsylvania
Major: Psychology and Criminology
Graduation Year: 2016
Senior Abbey Miklitsch grew up in York, Pa. surrounded by nothing but land. It was an easy decision to come to the University of Rhode Island for one specific reason. The beach. "I love the beach and I love the water," said Miklitsch. "As a senior in high school, seeing the beautiful beach houses that I could potentially live in for my college years was one of the main reason I chose URI," she said.
Miklitsch is a psychology and criminology major, with a double minor in underwater archeology and philosophy. Miklitsch knew there would be some challenge in having a double major and double minor, but she was ready for it.
When we asked Miklitsch how underwater archeology fit in with psychology, criminology and philosophy, she couldn't help but laugh gingerly. "People ask me how underwater archeology fits in all the time," said Miklitsch. "I've wanted to be an archaeologist since I was 7 years old. However, as I got older I realized I would never have the patience to be an archaeologist, but when I got to URI and found the minor in underwater archaeology, I was hooked and couldn't turn away from the chance to learn about that side of the field," she said.
Miklitsch wasn't satisfied with challenging herself exclusively in the classroom. She made the URI Division 1 women's rowing team as an unrecruited athlete. She had never even considered rowing before coming to URI.
Her love for the water and her determination led to a scholarship to row for URI.
Her rowing story began when the former rowing coach approached her about joining the team. "When the coach told me about rowing, I didn't know much about it," said Miklitsch. "When I put boat and water together, it was a no brainer to join the team."
Miklitsch has been on the rowing team since freshman year. "I have taken away so many life lessons through this sport, which can only be taught through athletics," said Miklitsch. "The most important lesson I have learned through rowing was learning how to be fair. I learned what it was like to face my coaches, my teammates, and look them in the eye and admit when I wasn't at my best. Learning how to deal with failure is what it takes for us to learn how to push ourselves far enough to reach success," she said.
Beyond athletics, Miklitsch has maintained a 3.5 grade point average throughout her four years at URI, while making the Dean's List seven semesters in a row. She hopes to complete her eighth and final undergraduate semester on the dean's list. She also was an Atlantic 10 Commissioner's Honor roll recipient.
Miklitsch served on URI's Student-Athletic Advisory Committee, which meets regularly with URI Athletics administrators to ensure that the welfare of student-athletes is a top priority. Her excellent work on URI's committee led to her being named to the Atlantic 10 SAAC, and she went on to represent the A-10 at the national level on the NCAA Division I SAAC.
But her service to fellow her students didn't stop there. She was the only student-athlete named to the 17-member National Student Advisory Committee, which held monthly conference calls with the White House to address sexual and domestic violence issues on college campuses.
Miklitsch does weekly research with the Rhode Island Training School-Juvenile Detention Center. Miklitsch and her team collect data from juvenile offenders through questions, and then analyze the data. "I've learned that a bit of patience and kindness goes a long way," said Miklitsch. "It is easy when you're working with challenging populations to get frustrated. Some of my most successful days have come from me remembering to take the time and sit down and remember to be patient and kind," she said.
Miklitsch will attend the University of Wisconsin to pursue a master's degree in psychology.
Written by Dominick LaFerrera, an intern in the department of marketing and communications and a communication studies major
Photo by Nora Lewis
Media Contact: Dave Lavallee, 401-874-5862