Alessandra Portukalian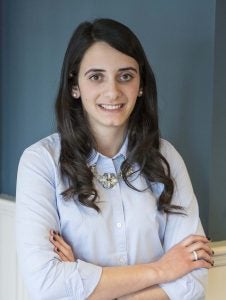 Hometown: Cranston, Rhode Island
Major: Kinesiology
Graduation Year: 2016
Upon entering the University of Rhode Island, Portukalian knew she wanted to study physical therapy and felt that an undergraduate major in kinesiology would best prepare her to succeed in the career.
"Through becoming a physical therapist I hope that I will be able to educate patients about their ailments, so they are able to look past any insecurity and focus on working to get better and strive toward the bright future that exists within their reach."
During the fall 2014 and spring 2015 semesters Portukalian completed an internship in the URI Sports Medicine Student Athletic Training Room. Throughout her internship, she worked with student-athletes who were injured or were prepping for their upcoming game or practice. She also worked side-by-side with the University's athletic trainers on the sidelines during football games and team practices.
Portukalian is completing a full-time internship at Cedar Crest Nursing and Rehabilitation Center in Cranston. She works with the rehabilitation team, specifically the physical therapists, to treat patients and help them recover.
"Through these experiences, I have been able to expose myself to a variety of areas in the field of physical therapy. In doing so I have strengthened my desire to pursue a career in the field."
Portukalian says that her drive to succeed academically was her number one motivation.
"I was aware of how highly competitive physical therapy graduate programs were to be accepted into, and rather than steering me away, I used this as a drive to succeed. The courses challenged me as a student and allowed me to improve my capabilities and better discover myself as a person."
With her time as an undergraduate coming to end, Portukalian says the best part of her URI experience has been her involvement in clubs and extracurricular activities. She is a member of the Pre-Physical Therapy Club, Sports Medicine Club, Kinesiology Club, Ballroom Dancing Club, Sailing Club, Club Tennis and a URI 101 Mentor.
"These have given me insight to what the university has to offer and have provided me with relief from academics throughout my years. I have remained a well-rounded individual and student by engaging in extracurricular activities and setting time aside to break away from schoolwork and spend it doing things that I love."
The day after graduation Portukalian will begin URI's three-year doctor of physical therapy program.
"After I finish my graduate degree at URI, I hope to own a private outpatient physical therapy practice. As a physical therapist, I will use my own personal experiences to help others move forward and feel better, both physically and emotionally," said Portukalian.
Written by Caitlin Musselman, a URI Marketing and Communications intern and a public relations and political science major.
Photo By: Nora Lewis
Media Contact: Dave Lavallee, 401-874-5862