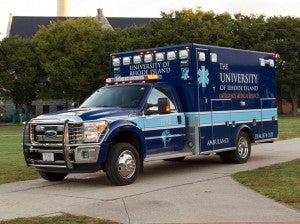 Welcome to the University of Rhode Island's Emergency Medical Services! We are a 24/7/365 operation providing emergency prehospital care and transport to ill and injured persons primarily at the University of Rhode Island and also in the surrounding communities. We provide a full range of services to the Kingston and Narragansett Bay Campuses and limited services upon request to the Providence and W. Alton Jones Campuses. We are a unique service offering many different emergency and related services.
Explore Our World

This website is designed to give you information about our service, what we do, and how you can help us make a difference! You will find general information, facts about our service, what makes us unique, what to do in an emergency, information on some of our recent calls for service and forms to request information/medical records, among other information. Feel free to explore this website and let us know if you have any further questions!
Want to know about a CPR/AED or First Aid course? Would you like to take a course in the Incident Command System? Do you want to receive medical training? Do you know what to do in an emergency? Do you need a copy of a medical run report? You will find the answers to all of these questions in our website!

Make a Difference!
Become a volunteer (no experience required-we provide your training)! Only eight hours per week, and one meeting per month are required. Check out "Become a Volunteer" in the navigation menu for more information!
No time to volunteer? If time is short, please consider making a donation. See the "Support/Donate" section for more information. Support from community members such as yourself is always welcome and greatly appreciated.
Find us on Facebook below: