Panel discussion featuring Hilina D. Ajakaiye, executive vice president
at Meet Boston (formerly Greater Boston Convention & Visitors Bureau)
and founder and president of R.I.S.E. Women's Leadership Conference; and
Lauren Gray, senior vice president on the Crisis and Reputation Risk
leadership team at Edelman.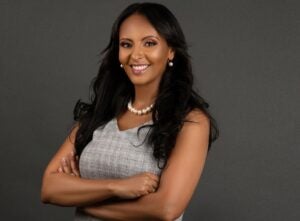 Hilina D. Ajakaiye
Hilina D. Ajakaiye is the Executive Vice President at Meet Boston, bringing nearly 20 years of sales, marketing and operations expertise to her role at the organization. Ajakaiye has specific oversight over several departments – including human resources, partnership development, finance, leisure destination services, and operations – and she leads many of the Meet Boston's
most important initiatives related to community engagement, workforce development, accessibility, and a wide range of mission-critical work in the equity, diversity and inclusion space.
A native of Ethiopia, Ajakaiye immigrated to the United States in 1987, perfected English as a second language, and simultaneously graduated with her high school diploma and an associate degree at age 17. She went on to pursue her undergraduate studies at the University of Massachusetts and later earned her MBA in International Marketing Management from Northeastern University in 2017. Previously, she worked for Ahold Delhaize where she received national recognition for her success in leading multiple teams and overseeing an operating budget of $805 million in annual revenue.
Ajakaiye is passionate about causes that advance equity. At the MEET BOSTON, she
spearheads a partnership with Tourism Diversity Matters (TDM) that aims to diversify the travel and hospitality workforce, particularly in the upper management and leadership tiers. The MEET BOSTON-TDM model that Ajakaiye has advanced is now recognized and endorsed by the US Travel Association as the leading model for other destination marketing organizations to emulate. She also currently serves as co-chair of the Equity, Diversity & Inclusion Committee for Destinations International.
For Ajakaiye, partnership is the foundation of success. She is leading an overhaul of the MEET BOSTON's traditional membership structure to replace it with a partnership paradigm. The goal of this initiative is to enhance the value proposition of the organization by expanding the range of constituents and stakeholders – driving more community engagement while bringing the businesses and neighborhoods that were once on the fringe of the visitor economy into the fold.
In her endeavor to drive greater value proposition for the MEET BOSTON, Ajakaiye has developed a 501 (c)(3) private foundation that will allow the organization to pursue charitable work and community partnership like never before. Ajakaiye is the Founder of the R.I.S.E. Women's Leadership Conference, for which she was named "Rhode Islander of the Year" in 2019 by Rhode Island Monthly. She has been called on to serve on The Network of Executive Women (NEW), as board director for Big Brothers, Big Sisters and Progreso Latino, and as a board trustee for the Woodward School for Girls. She has recently joined the board of the Rose F. Kennedy Greenway Conservancy, where her voice will amplify and guide the Greenway's core mission to create a sustainable urban green space that is active, immersive, and, above all else, accessible.
Ajakaiye is an inductee into the Big Brothers, Big Sisters "People We Admire" program and is a graduate of The Partnership, Inc.'s Leadership Program. Along with her husband and two children, she is an avid traveler who embraces the notion that travel breaks down barriers, allows for cultures in contact to flourish, and cultivates global citizens.
Lauren Gray
Lauren brings a law degree and 15 years of experience in strategic communications, crisis management, policy and social issues to help clients manage complex reputational issues. Lauren is also part of Edelman leadership for its Societal Issues Task Force and its LGBTQ+ Task Force, counseling clients across industries such as health, finance, CPG, retail, fashion, and tech.
Prior to Edelman, Lauren provided crisis communications support to the City of New York and Planned Parenthood Federation of America. She trained survivors of military sexual assault to share their stories with members of Congress and the media. And she led communications for the first lawsuit filed against former President Trump's now-repealed transgender military ban.
In 2023, Lauren was one of four Edelman employees honored in New York's City & State Political PR Power 50. In 2022, PR Week named Lauren to its Pride in PR list featuring 30 leading LGBTQ+ professionals. Lauren was also honored by PR Week as a Champion of PR, one of 36 women in the U.S. who represent the "gold standard in the industry."
2023 Speaker List