Hometown: Narragansett, Rhode Island
Specialization: Global and Environmental Health
Why URI?
I chose URI because I knew that it would provide me opportunities to work alongside professionals in my field. I wanted to be able to learn outside of the classroom, and with the time and resources URI is allocating to its science and health programs I knew it was the right choice.
Why did you major in Health Studies?
I originally started as a microbiology major, but was miserable in my courses and was lacking the passion I knew I should have had. I still wanted to study diseases and work with people in the realm of health, so Health Studies was a perfect fit for me.
What do you consider to be the greatest strength of health studies?
For sure the professors and staff. I always learned something new and relevant in every single class, and it's evident how much they care about their students. Without their encouragement and support I would have never pushed myself to not only do well in classes but also further my development as a professional; from conducting research to applying to graduate school (and getting in!!!! ).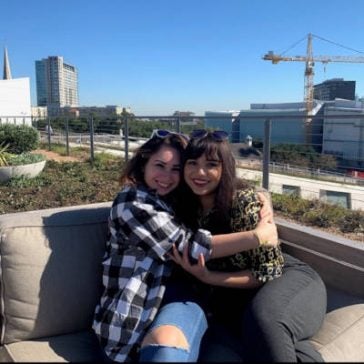 What experiential learning opportunities have you had at URI?
I have been very fortunate to have had multiple. The first that comes to mind is getting to not only TA for Dr. Cohen this semester. I also work with him and Dr. Greaney on public health research that was submitted to the APHA. In addition, in AVS/ENT 390 I worked directly with Dr. Mather on TickEncounter and create resources that he will be using this summer in order to engage the public and teach them more about ticks and the diseases they carry. This learning opportunity has actually led to a summer job with URI's Center for Vector-Borne Diseases, where I get to not only work in a lab and aid with experiments but also collect ticks during fieldwork.
Any advice for majors?
Put yourself out there! It's so easy to sit there and then walk out the door when class is dismissed, but you're missing out on learning outside of the classroom. Ask professors if they need help in any research they're conducting so you can gain experience in a lab setting, and also try to develop a personal relationship with them. You never know what those opportunities can lead to, and they help you get ready for your career after URI.
What surprised you the most about URI?
The sheer quantity of research being conducted by every single department on campus, and the global impact that the science research has. Both lab research opportunities I've had have been backed by the CDC, which is so exciting and has always been one of my dreams as a researcher.