This question was asked by Scott Vaughan
Reviewed by: Jen McCann
Last Update: July 1st, 2020
The Bureau of Ocean Energy Management (BOEM) is responsible for offshore renewable energy development in Federal waters. The program began in 2009 when the Department of the Interior announced the final regulations for the Outer Continental Shelf (OCS) Renewable Energy Program, which was authorized by the Energy Policy Act of 2005 (EPAct). These regulations provide a framework for all activities needed to support the production and transmission of energy from sources other than oil and natural gas. Under EPAct, BOEM must ensure that projects are developed in environmentally responsible ways and consider other uses of the OCS. BOEM must also coordinate with relevant federal agencies as well as state and local governments1.
BOEM applies a four-phase process in the authorization of an offshore wind development: 1) Planning and Analysis; 2) Leasing; 3) Site assessment; and 4) Construction and Operation.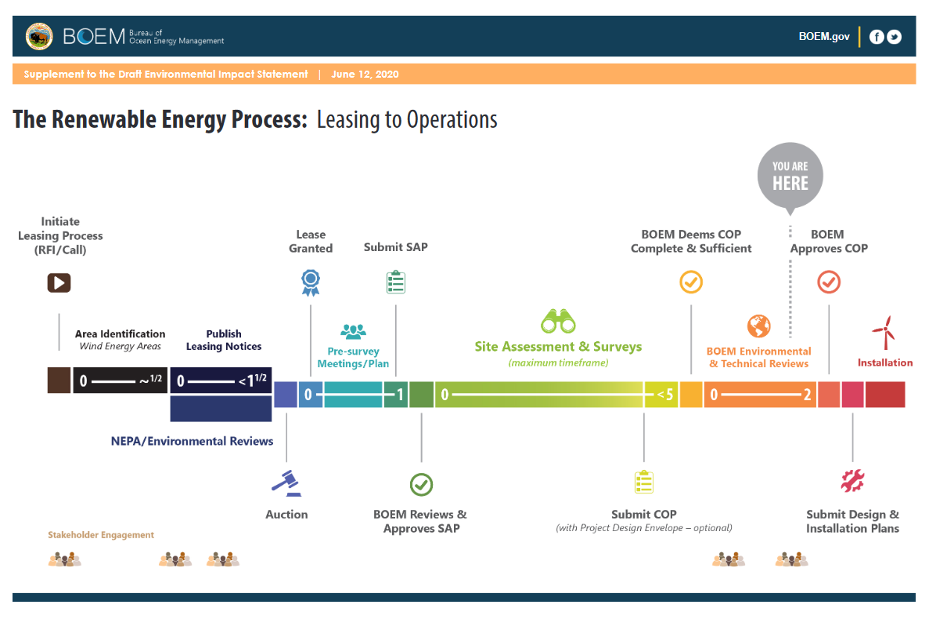 A description of this process and timeline can be heard within the presentation that Meredith Lilley (Project Coordinator, BOEM) gave at the Gulf of Maine Intergovernmental Renewable Energy Task Force Meeting held at the University of New Hampshire in December 12, 2019. Watch the recording below.
In 2016, BOEM also published A Citizen's Guide to the organization's renewable energy authorization process. The guide is intended to help the public understand BOEM's process for overseeing renewable energy projects on the OCS and to highlight opportunities for public involvement. View the Citizen's Guide here.

Sources
[1] Overview of BOEM's Regulatory Framework boem.gov/renewable-energy/regulatory-framework-and-guidelines