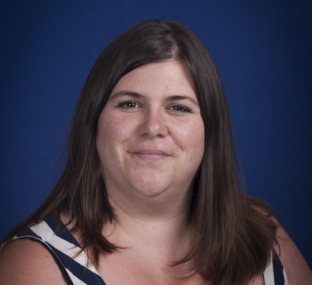 Program Administrator, Energy Literacy
URI Cooperative Extension
Phone: 401.874.4096
Email: kate@uri.edu
Kate Venturini is a Program Administrator for URI Cooperative Extension at the Mallon Outreach Center, home of a number of URI Cooperative Extension programs that disseminate science-based information to a variety of stakeholders through train-the-trainer programs, public workshops and events, youth field trips and in-school programs. In 2016, Kate worked with a team of Energy Fellows to create the Plugged into URI Energy Research lecture series, held annually to highlight ongoing energy-related research and policy initiatives in Rhode Island.
Since 2012, Kate has led the effort to institutionalize experiential learning in energy at URI through the Energy Fellows Program, established in 2008 for undergraduate and graduate students interested in pursuing energy careers. In addition to vetting and placing students with fellowship mentors, Kate works to build partnerships with energy-related businesses, NGOs, research faculty and staff to expand opportunities available to students through the program. Kate earned her Bachelor's in Landscape Architecture and her Master of Arts in Marine Affairs from URI.