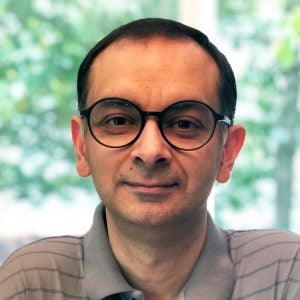 Professor
Room 317
Phone: 401.874.2058
Email: gkhanna@uri.edu
Office Location: Department of Physics,
East Hall,
2 Lippitt Road,
Kingston, RI 02881
Biography
Dr. Khanna is a Professor in the Department of Physics and the Director of Research Computing at URI. He works on a variety of challenging problems in theoretical and computational physics. This primary research project is related to the coalescence of binary black hole systems using perturbation theory and estimation of the properties of the emitted gravitational radiation. This research is of relevance to the NSF LIGO laboratory and the upcoming space-borne missions that are just beginning to make direct observations of this radiation. Dr. Khanna has extensive parallel and scientific computing experience, and has detailed knowledge of a variety of computer architectures. He has published nearly 100 research papers in top international journals and secured over 2 million-dollars in research funding to date.
Dr. Khanna obtained his doctoral degree from Penn State University in 2000 and his undergraduate degree from Indian Institute of Technology, Kanpur (India) in 1995.
Research
Black Holes
General Relativity
Gravitational Waves
Gravity
Quantum Gravity
Scientific Computation
High-Performance Computation
Supercomputing
Education
2000 : Ph.D. in Physics, Pennsylvania State University
1995 : B.Tech. in Electrical Engineering, Indian Institute of Technology – Kanpur, India.
Publications
Here is an auto-generated list of Dr. Khanna's publications:
https://arxiv.org/find/grp_physics/1/au:+khanna_g/0/1/0/all/0/1
Personal website: https://web.uri.edu/gravity/