written by Clea Harrelson '20
Researchers on campus can plug into the High Performance Computing Center via a 10-gigabits-per-second fiber optic network, or 9,400% faster than the average internet speed in the United States.
No one adores sluggish computers, especially researchers running millions of calculations for an experiment. To provide University of Rhode Island (URI) scholars with more brute power, the University signed on to join a regional high-performance computing center.
"We're already beginning to see some connections forming, and that's the hope, to enable better collaborations that enable research."
–Gaurav Khanna
Developed by a consortium of Bay State research universities, the Massachusetts Green High Performance Computing Center (MGHPCC) welcomed URI into its fold late last year. Together with the University of Massachusetts Amherst, URI announced a $1.2 million strategic investment to create a computational cluster of some 300 servers available for advanced data analysis and artificial intelligence. That will come in addition to the center's data storage and high-speed computing capabilities.Researchers on campus can plug in to the center via a 10-gigabits-per-second fiber optic network, or 9,400% faster than the average internet speed in the United States.
URI Research Computing Director and Professor Gaurav Khanna, says the new cluster promises to accelerate discoveries. Plus, it reduces the need for physical space, materials and personnel to manage it all. Take, for example, lab work to develop a new polymer for use in the marine environment, an area where URI holds expertise.
"You may have to do thousands of lab experiments to build a new material," Khanna says. "But with simulation through computing, you haven't spent a single penny on infrastructure or time."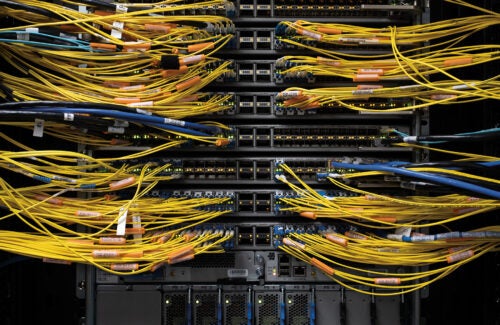 For this reason, Khanna, a physics professor, says researchers increasingly turn to high-performance computing to advance their work. And as researchers leverage artificial intelligence, machine learning and quantum computing, URI is building resources to support such initiatives.
"The landscape of computing is changing," Khanna says. "More and more researchers are applying computing to their work, and this investment will give URI a seat at the table."
The investment comes thanks to a $1.2 million federal grant spearheaded by U.S. Sen. Jack Reed and smaller grants won by Khanna and colleagues. The investments should reduce the need to rely on infrastructure at other institutions and two antiquated computing clusters housed at URI.
To support the new cluster and larger academic computing initiative, Khanna is assembling a team. He arrived in late 2020 as the founding director of research computing at URI Information Technology Services (ITS). Today, he counts three IT professionals and four student facilitators working across campus disciplines. Student facilitator Cécile Crès assists URI researchers with data transfer and related needs.
"Most fields are dealing with a lot of data," she says. "Now that we have better tools, I think a lot of people will be interested in using computing."
Crès points to her own research as an example. The doctoral student in biological and environmental sciences develops computational models to process genomic data of bacterial species in Narragansett Bay. Training her algorithms can sometimes take a month, so faster computing resources, Crès says, means better data processing speeds, and that's good for research.
The new cluster promises to accelerate discoveries.
Also good for research: putting researchers together to tackle big problems. The partnership with the Massachusetts center promises just that. Built and
managed by Boston University, Harvard University, Massachusetts Institute of Technology, Northeastern University and UMass, the facility encourages
collaboration through events, conferences, publications and internships. This fall its High Performance Computing Day conference at UMass featured URI oceanography Professor Isaac Ginis.
"We're already beginning to see some connections forming," Khanna says. "And that's the hope, to enable better collaborations that enable research."