Nearly 100 years of education and outreach, the extraordinary living laboratory of URI's East Farm continues to provide the community of Rhode Island with training and expertise.
Professor Steven Alm stands in the middle of his laboratory. Surrounded by roughly 85 acres of meadows, forests, orchards, greenhouses, and fish tanks, Alm, a professor of plant sciences and entomology, calls his surroundings a hidden gem.
For 94 years, the University of Rhode Island (URI) East Farm has operated as a living laboratory for generations of URI students and faculty researchers. A mile from the bustle of the main campus, researchers dig, grow, prune, harvest, and observe to think big about solving species decline, bolstering the horticulture industry and studying fish.
"We can conduct field experiments here, things you can't do in a 20-by-20-foot lab," says Alm.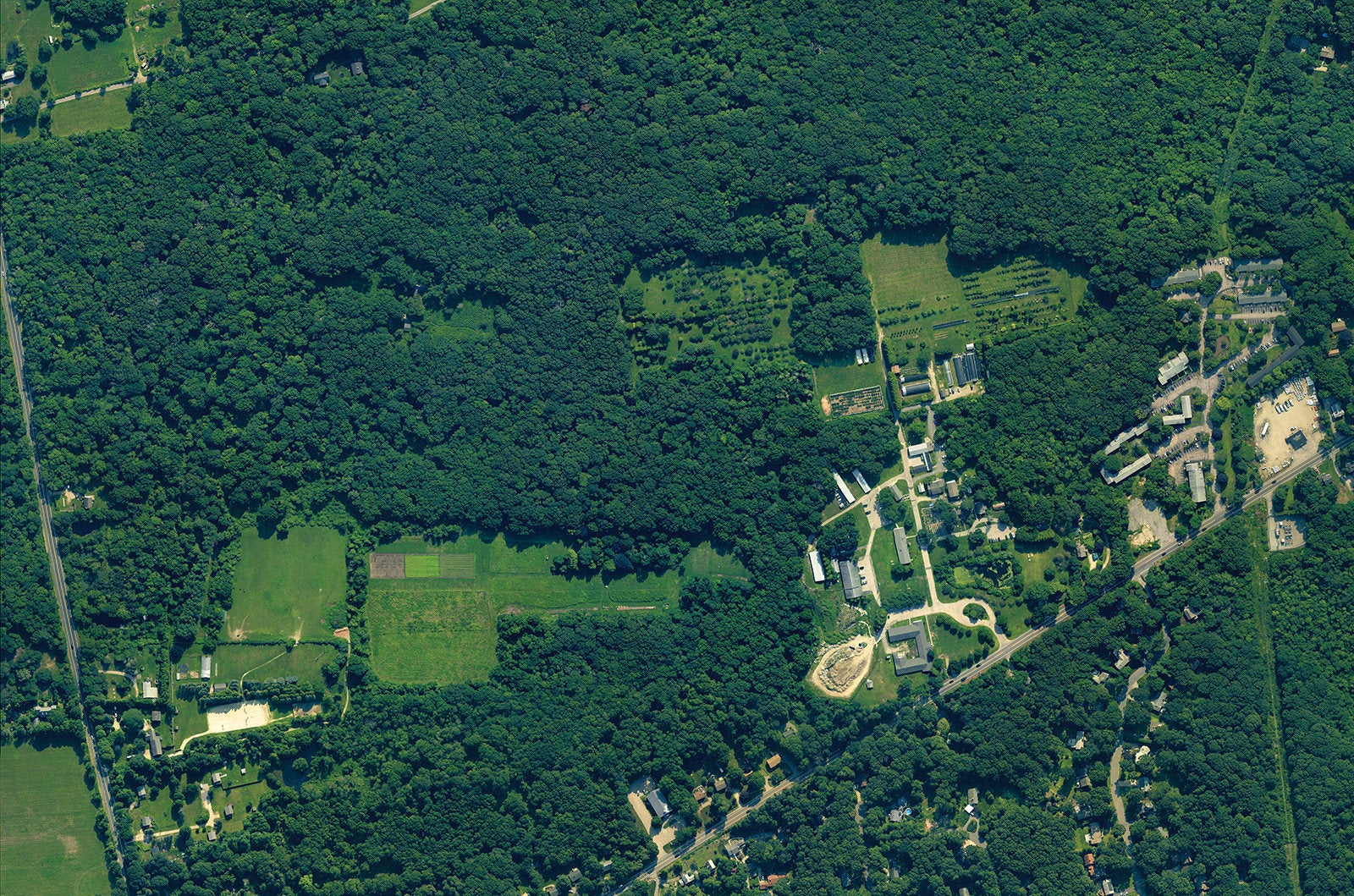 Scott McWilliams

used crabapples to study nutrition in migrating birds | current

Larry Englander Evaluation of crabapples for disease resistance | 1980-1990

Pollination studies, honeybees | 2014-current

Evan Preisser and Richard Casagrande | Hemlock Adelgid and predator/prey interactions | 2005-current


Robert Hindle

| plant identification cuttings from CA.

John McGuire evaluated plant material for the nursery industry | 1970-1990

T.J. McGreevy, Brian Gerber, Thomas Husband, and Amy Gottfried Mayer | Fisher and bobcat research | 2015-current

Tick research plots | Thomas Mather and Jannelle Couret | 2012-current

Fruit Trees | Vladimir Shutak, Robert Gough, and Steven Alm | Apple research | 1980s-current

Apple Orchards | current

Blackberries, peaches, and pears | current

William Krul | Grape research | 1985-1990

Master Gardener bumble bee planting

Rhododendron stock plants | current

Brian Maynard | plant evaluation for the nursery industry | 1992-current

Sunflower and pollinator plantings | current

Honeybees | 2014-current

Evan Preisser and Richard Casagrande | Research on hemlock adelgid and predator/prey interactions | 2005-current

Everett P. Christopher, Vladimir Shutak, Robert Gough, and Steven Alm | Blueberry research | 1950s-current

Arboretum

Oak forest

Arboretum

5 Acre field

Pollinator plantings

Wetlands

Floodplain wetlands

Honeybees | 2014-current

Honeybees |

Matthew Kiesewetter and Steven Alm

| 2014-current

Honeybee, native bee, and pollinator plant research | 2014-current

Cherry trees | 1960s

Mark Stolt | RI soils research | current

Wayne Durfee | Research on Rhode Island red chickens | 1940s-1970s

Chicken coops | active 1930-1970

Honeybees

Jon Boothroyd | Geology research | current

Kathleen Castro, Barbara Somers, Laura Scrobe, Mitch Hatzipetro | Lobster and fisheries research | 1989-current

4-H | current

Soil testing | 1980s

Entomology | current

Terrence Bradley

| Aquaculture | 1986-current

Jacqueline Webb | Sensory systems of fishes | 2021-current

David Gregg | RI Natural history survey

Numi Mitchell | Coyote research | 2015-current

Richard E. Wolke

| Fisheries | 1984-2006

Marta Gomez-Chiarri | Aquatic pathology | 1997-current

Jannelle Couret | Mosquito and tick research | 2014-current

Peter Patton, Scott McWilliams, Thomas Husband | Ornithology, mammalogy | 1977-current

Commercial fisheries research | 2004-current

Plant Sciences Center | classrooms and laboratory | Mosquito Abatement Center | current

Master Gardener | Greenhouses | 1995-current

Honeybees | current
Explore the image to learn more about research at URI's East Farm, past and present.
For 94 years, East Farm has operated as a living laboratory for generations of URI students and faculty researchers.
Sprouting Golden Delicious, McIntosh and Rhode Island Greening apple trees, the orchards at East Farm afford researchers opportunities to assess new cultivars, and teach pest control, pruning and growing techniques. URI plant sciences and entomology Professor Larry Englander used the crabapples in the Lester P. Nichols Crabapple Arboretum to evaluate scab resistant trees for the nursery industry. Brian Maynard, also a URI professor of plant sciences and entomology, supports the nursery industry by evaluating plants that eventually make their way to the main URI campus. And natural resources science Professor Scott McWilliams has used the crabapples to study bird nutrition.
Other flowering plants on the farm are meant for the bees. Blueberry bushes and pollinator meadows offer opportunities to study pollination biology. Students monitor the fields of pollinator habitat to identify plants preferred by bumble bees to pinpoint ways to conserve declining populations of native bees. Honey bee hives are maintained to study novel methods for controlling pests of honey bees.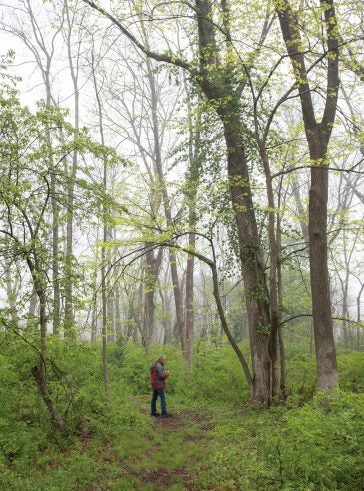 In the fisheries buildings, Professor Terence Bradley and his research team from URI's department of fisheries, animal, and veterinary science, Barbara Somers, Laura Skrobe, Mitch Hatzipetro, and Captain Steve Barber offer students and industry professionals aquaculture training and support the fishing industry. Biological sciences Professor Jacqueline Webb studies sensory mechanisms and development of fish.
Elsewhere on East Farm, entomology Professor Thomas Mather and biological sciences Assistant Professor Jannelle Couret place ticks in chemically treated plots of leaf litter to learn how to best prevent ticks and tickborne diseases. Natural resources science Professor Mark Stolt digs soil pits to train students and professionals in soil morphology. Biological sciences Professor Evan Preisser conducts ecological experiments on predator-prey interactions and researcher Lisa Tewksbury of the URI Biocontrol Lab uses insects for the biological control of invasive plants and pests.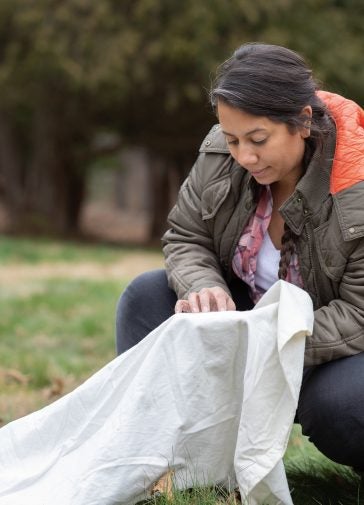 "Here you can look at the plant, you can smell the plant and you can taste the plant," says Maynard. "Students have commented on how much they enjoy the hands-on training that East Farm provides them."
For Alm and others, the farm represents the institution's roots, literally and figuratively. What is now the University of Rhode Island began as the state's agricultural research station. By 1928, researchers helping the fruit industry needed a place to plant fruit trees away from the campus of the then named Rhode Island State College. Twenty acres of nearby farmland proved opportune. James Lewis Gough sold the land to the state in what marked the college's first expansion beyond Kingston Hill. His grandson, Robert Gough '73, graduated from the college and became a horticulture professor, spending many hours at East Farm.
Photo gallery
A living laboratory
After the purchase, laborers planted fruit trees, mostly apple trees, and researchers followed. In 1940, a 45-acre purchase more than tripled the farm's size. After World War II, a sharp rise in enrollment—driven largely by returning veterans utilizing the GI Bill—led to an expansion of the institution, including East Farm with a roughly 20-acre purchase in 1951 to grow the farm to its present-day size.
"Students have commented on how much they enjoy the hands-on training that East Farm provides them."
—Brian Maynard
Fruit research, especially apple varieties, became big business with apple orchards extending to Route 108. The Rhode Island Apple Growers Association routinely met on the farm, held public events, and asked college researchers to explore growing techniques and pest management. A cider mill processed the apples, shipping the cider to market while extra apples went to campus dining halls.
The apple research proved to be ahead of its time. The public had not yet embraced novel apple varieties and shunned them in favor of common varieties, says Heather Faubert '81 and '12, a URI research associate who has studied the history of the apple research at the farm.
A center for poultry research
Alongside the apple research were chickens. Lots and lots of chickens. An influential poultry industry kept researchers busy finding better ways to rear the chickens, while keeping them healthy and improving egg production.
At the center of the poultry research stood Wayne Durfee, '50 and '53. He was a Navy veteran who attended URI as a student and went on to serve on the faculty for 38 years teaching students in the methods of poultry raising and processing.
"It was an exciting time," Durfee says.
As a student, administrators charged him with keeping an eye on the place. From his perch in a three-room house on the property, he monitored the hens living on the farm for an annual egg laying contest. Started in the 1930s, the annual contest brought flocks of hens from upwards of 50 farms throughout the country. A dutiful attendant checked the hens five times daily for eggs recorded egg weight and size.
The contest and the farm enthralled Durfee enough that after graduation he joined the faculty as a poultry professor and got to work designing new facilities to raise and study poultry. A Quonset Hut served as a makeshift classroom with as many as 40 students at a time cramming in to attend Durfee's animal science class. A Durfee-designed poultry processing plant made a few freshmen squirm, though most students, he says, came from rural Rhode Island where poultry processing was common. The turkeys processed went to the Kingston Campus for sale to faculty and staff for Thanksgiving dinner.
Over time, the state's economy changed, emphasis on poultry industry receded, and eventually the Department of Poultry Science merged with what is now the Department of Fisheries, Animal, and Veterinary Sciences. Durfee switched to aquaculture and in the 1980s the University opened a new fisheries building at East Farm to replace the cramped quarters 20 minutes north in Wickford, RI. The half-million dollar, 6,000-square-foot facility was considered innovative for its time. The URI Foundation agreed to provide $400,000 for its construction under a lease-purchase agreement.
What is now the University of Rhode Island began as the state's agricultural research station.
The project proved to be the last major investment in the farm for several decades. Eventually, the poultry buildings were razed or repurposed. Visitors who climb the stairs to the woodshop can find a sign reminding staff not to store feed in front of the exit door and can root through the thicket of foliage to find the foundations of two long-since demolished poultry rearing pens.
In the 1990s, most activity at the farm revolved around fisheries research and otherwise the place remained largely quiet. Administrators briefly explored constructing residence halls on the site, but plans never seriously took off, says Robert Carothers, the University's president at the time.
The best keep secret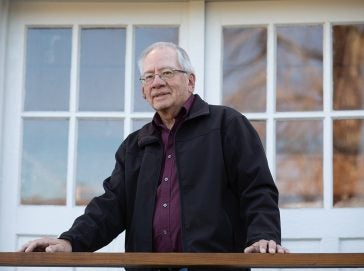 One group did take up residence. During the '90s, the Master Gardener program moved in. The program that trains people in environmentally-sound gardening practices attracted people to the farm, including Carothers, an inspiring green thumb who volunteered to plow the fields driving a John Deere tractor. But the president emeritus says he was relieved of his duties when someone noted his furrows were not straight.
In the late '90s, local newspaper publisher Rudolph "Rudi" Hempe joined the Master Gardeners. Inspired by the farm's beauty and research potential, he helped arrange the first of several open houses that drew hundreds of people to the farm for plant sales and horticulture demonstrations.
"I said, 'You know this is the best kept secret in South County,'" Hempe notes of the inspiration to organize the open houses.
Today, Hempe and the Master Gardeners volunteer to maintain much of the grounds and, through a nonprofit, fund the purchase of equipment like tractors. Other volunteers, including URI athletic teams, pick the farm's apples to provide to the Rhode Island Food Bank.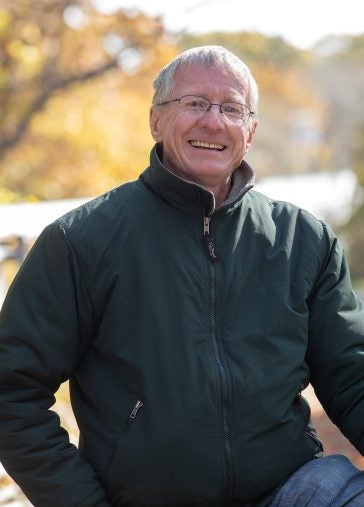 And in the last few years, the farm, under the purview of the College of the Environment and Life Sciences, has seen something of a mini renaissance. Dean John Kirby largely credits Alm, calling him a "hard-working, smart guy" who serves as a parental figure for the farm.
Recent improvements include renovations to research facilities, including the fish lab and a building housing 4-H staff. A refurbished building houses the Fisheries Center of Rhode Island, an industry group, while the original farmhouse was repurposed to host the Master Gardener program.
The college also has kept up its outreach mission, especially to the horticulture community. Faubert started in the 1980s helping apple growers and
then in 2005 transitioned to assisting the nursery and landscape industry and public through the Plant Protection Clinic, a CSI type unit for determining what killed a plant. She appreciates the farm for practical reasons.
"Pictures can be very helpful but often you need to see a plant sample, which you can often grab from the farm," Faubert says.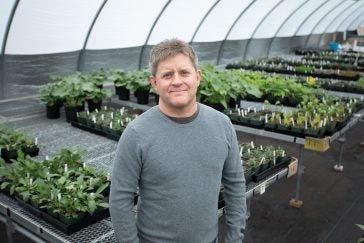 More could happen at the farm. Kirby says East Farm has room to grow. He's challenged the faculty to pitch innovative uses for the property, even beyond traditional agriculture. For example, bringing engineering, public policy, and environmental researchers together to study alternative energy like solar panels.
"There's a lot of opportunity here if we don't get caught up in the traditional [academic] boundary lines," Kirby says. "We have some really good legacy activities going on there and how do we build on it and how do we do the next set of things that make it an even more important part of the portfolio?"
Written by Chris Barrett '08