written by Allison Farrelly '16
The University of Rhode Island (URI) is the recipient of a National Institute of Health (NIH) training grant to encourage underrepresented students to pursue Ph.D. and M.D./Ph.D. programs post- graduation. MARC U*STAR, short for Maximizing Access to Research Careers – Undergraduate Student Training for Academic Research, is one of a series of funded efforts by the NIH to increase workforce diversity in biomedical fields by supporting students from underrepresented backgrounds.
The NIH definition of eligibility for this grant includes students who are racial or ethnic minorities, federal Pell Grant eligible, disabled, or first- generation college students, among other factors. Niall Howlett, a professor in the College of the Environment and Life Sciences, hopes to make more URI students aware of their potential eligibility for these funds.
Howlett and colleagues URI biological sciences Associate Professor Bryan Dewsbury and URI community equity diversity Associate Vice President Michelle Fontes identified two key goals for URI's MARC program: create an environment where students can learn the skills they need to become confident scientists and to create a community of scholars who feel a sense of belonging in the field of biomedical sciences.
Senior pharmaceutical sciences major Nana Oblie says the support MARC offered her has extended beyond academics.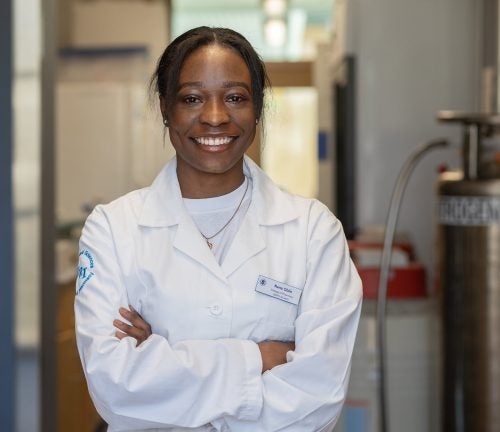 "The most important thing about MARC that I love is the community. Once you join, you become part of the family," Oblie says. "We share our struggles, our success stories, our time, our smiles, and our inspirational stories. We do this so we know we are not alone, and it makes it so much easier knowing you have cheerleaders who are willing to help anytime."
Howlett hopes that MARC can help students navigate complex barriers in applying to graduate school programs. The barriers a student from an underrepresented background may face in matriculating to graduate school range from financial insecurity, a lack of family support, or the absence of a sense of belonging in the greater scientific community.
Anya Sondhi, a senior molecular neuroscience, and biology double major, says MARC not only gave her financial support, research experience, and a community of scientists at URI, but also the guidance she needed to successfully pursue a Ph.D. program.
"We share our struggles, our success stories, our time, our smiles, and our inspirational stories. We do this so we know we are not alone, and it makes it so much easier knowing you have cheerleaders who are willing to help anytime."
– Nana Oblie
"The Ph.D. application process is not really talked about in college," Sondhi says. "Everyone knows exactly how you apply to college, but in college when you are applying to a Ph.D. program you don't necessarily have the same support. It can be confusing where to start, and a lot of times underrepresented students do not have people in our families who gave gone through the process that we can turn to. It is really helpful to have advisors who can walk you through it."
MARC students are actively supported by Program Coordinator Meagan Pepper Estes and Graduate Assistant Coordinator Jacob Green, who meet with the trainees bi-weekly to offer professional development, academic assistance, and holistic support.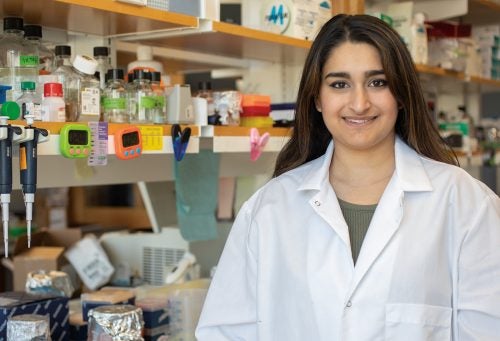 "The NIH has realized over the last 10 to 20 years that in order for us to do better research, we need to have more diverse teams of scientists with different experiences and different creativity – great minds think differently," says Howlett. "We've also got to think more about the well- being of the individual doing the research as well as the communities impacted by the research."
MARC is currently open to juniors at URI. While in the two-year program, trainees are provided a yearly $10,000 tuition scholarship, a monthly $1,200 stipend, in-state tuition matching for out of state students, a budget for a summer research experience at an external research-intensive institute, funds to travel to an annual scientific conference – typically the Annual Biomedical Research Conference for Minoritized Students meeting, and a designated research faculty mentor.
"It makes a huge difference in the trajectory of these students, the MARC program is promoting a sustainable and inclusive culture of undergraduate research excellence at the University of Rhode Island."
– Niall Howlett
Beginning in 2019, the NIH awarded URI five years of funding for four trainees per year – a number Howlett hopes to increase. The MARC team also aims to expand MARC participation to STEM disciplines across the University.
"It makes a huge difference in the trajectory of these students," Howlett says. "More importantly, by helping to create a community of student scholars with a strong sense of belonging in biomedical research, the MARC program is promoting a sustainable and inclusive culture of undergraduate research excellence at the University of Rhode Island."