Toni Marie Achilli
Former Teaching Post Doctoral Fellow's Impressive Career Path
Toni-Marie Achilli, PhD, has an impressive academic career path that took her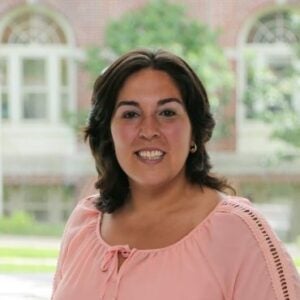 from Adjunct Professor to Associate Dean of Biology of Undergraduate Education in just 9 years!
Achilli holds a Ph.D. in Biomedical Engineering from Brown University and a Bachelor of Science degree in Chemical and Biomolecular Engineering from Johns Hopkins University. In the fall of 2013, she began her career as an Adjunct Professor at the Community College of Rhode Island. The following year Achilli was selected as a RI-INBRE Teaching Postdoctoral Fellow at Rhode Island College (RIC), where she was mentored by Dr. Geoff Stilwell, Associate Professor of Biology.
At RIC Dr. Achilli taught three courses to undergraduate students and continued to support her students while performing extensive genetic, neuromuscular, and ALS research on Drosophila melanogaster, where she remained until the summer of 2017. She published her research twice with Dr. Stillwell, entitled "Human SOD1 ALS Mutations in a Drosophila Knock-In Model Cause Severe Phenotypes and Reveal Dosage-Sensitive Gain- and Loss-of-Function Components," in the Journal of Genetics (February 2017, PMC5289846), and "Age-dependent degeneration of an identified adult leg motor neuron in a Drosophila SOD1 model of ALS," in Biology Open (October 2020, PMC7595701). Dr. Stillwell said, "Toni was a dedicated mentor and teacher during her time in my lab. She encouraged students to do their best and almost all have chosen careers in the biological sciences."
In 2017 Achilli returned to Brown as a Lecturer in the Department of Molecular Pharmacology, Physiology, and Biotechnology, teaching Biotech and Medicine, Regenerative Medicine, and Antibiotic Drug Discovery CURE courses to undergraduate students. Achilli's dedication to her students is demonstrated in her contributions to teaching and developing the Biotechnology and Medicine course, the CURE course Antibiotic Drug Discovery, and Group Independent Study Projects. She was instrumental in supporting three students in forming Brown Boosts Immunity, which seeks to raise awareness for vaccine efficacy and promote the increased uptake of vaccinations in Rhode Island. The project stemmed from her teaching Biotechnology in Medicine, a course that introduces undergraduates to major technological advances in medicine, where students approached her to discuss the rise of vaccine hesitance following a lecture. Achilli received Brown University's prestigious Elizabeth LeDuc Award for Excellence in Teaching in the Life Sciences in 2021.
Appointed Assistant Dean of Biology Undergraduate Education in 2021, Dr. Achilli assists in programming Biology curricula, represents Biology Undergraduate Education's task force for innovation in undergraduate STEM lab instruction, and the task force for experiential learning, and led the practicum course for Brown's pilot experiential learning program, BE3 Brown. In her new role as Associate Dean (September 2022) Dean Achilli will involve faculty and lead them in designing an advanced undergraduate program that focuses on inclusion. Among other responsibilities, she will create co-curricular programming for undergraduate Biology and co-direct the undergraduate portion of the Biology Program.
Over the years, Dean Achilli has published extensive peer-reviewed articles and presented several poster abstracts. Early In her early research years, she was issued two patents in 2012, entitled "Differential Effects Of Drugs On Transport In A Multi-layer 3D Spheroid Model," and "Mechanotransduction By The Synergistic Action Of Heterotypic Cell Interactions," both at Brown University. Achilli's graduate research on an artificial ovary was featured as one of the top ten medical breakthroughs of 2010 by Time Magazine. In 2012 she received the Best Poster Presentation award at the International Conference on Frontiers in Pharmaceutical Sciences for her research entitled "A New Model for Quantifying Drug Uptake and Transport in 3D Multicellular Spheroids: A Case Study for P-glycoprotein."
Dr. Achilli is a member of the Biomedical Engineering Society and continues to teach undergraduate students at Rhode Island College as an Adjunct Professor in the Department of Biology.