Semester Undergraduate Research Experience (SURE) Program
The RI-INBRE Semester Undergraduate Research Experience (SURE) Program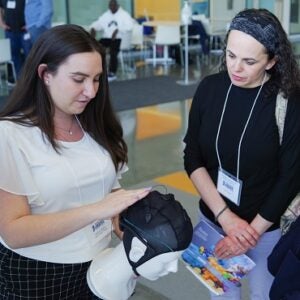 provides paid research and professional development opportunities for students underrepresented in the biomedical sciences. Program Activities include mandatory orientation and training, paid research (10-15 hours a week), professional development workshops (4-5 total), and a poster symposium at the end of the semester.
Students may nominate themselves for the program or faculty mentors can nominate students directly using the FOLLOWING FORM. Nominations are due Saturday, December 10, 2022 by 11:59pm.
Eligibility Requirements:
1. Must be: (1) a current undergraduate student at URI, (2) a U.S. Citizen or Permanent Resident, and (3) be from an underrepresented population as defined by the NIH.
2. Must meet one of the following requirements: (1) Are a past participant of the RI-INBRE SURF (or similar) program; (2) Are currently performing biomedical-related research at URI; or (3) Plan to apply to the 2023 RI-INBRE SURF Program.
Feel to reach out to the RI-INBRE Training Core Director, Dr. Samantha Meenach, at riinbresurf@uri.edu for more information.