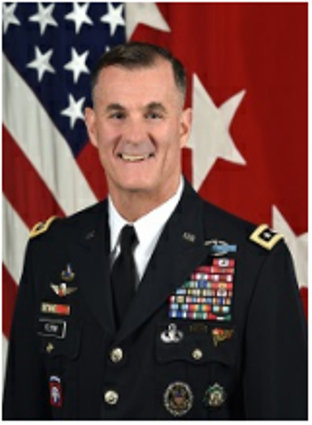 Lieutenant General
Afghanistan & Desert Storm & Haiti & Iraq
Biography
Lieutenant General Charles A. Flynn is a native of Middletown, Rhode Island and a 1981 graduate of Middletown High School. He was a scholar and an outstanding athlete playing varsity football, basketball and baseball. While at the University of Rhode Island, Flynn was a stalwart on the water polo club team, serving as Captain during his junior and senior years. He was a member of Phi Gamma Delta Fraternity and was elected President in his junior year.
He was enrolled in the four-year Army ROTC program and graduated in 1985 with a Bachelor of Science Degree in Marketing. He was commissioned a Second Lieutenant of Infantry and was an Army ROTC Distinguished Military Graduate. Throughout his over 27- year career, Lieutenant General Flynn thrived in the most demanding operational and command assignments. At the platoon and company level, Lieutenant Flynn served in multiple company grade assignments as a Rifle Platoon Leader, Company Executive Officer and Battalion Staff Officer in the famous 82d Airborne Division.
Later, at the rank of Captain, he commanded Company A, 4th Battalion, 325th Airborne Infantry Regiment. Following this assignment, his superior leadership, physical stamina, and tactical prowess were recognized when he was selected above his peers to command a second airborne rifle company. This time, Captain Flynn was assigned to Fort Lewis, Washington where he served as the Commander of A Company, 2nd Battalion, 75th Ranger Regiment. During these years, a pattern was established which would be repeated throughout his career; leading his Soldiers with distinction in combat. Captain Flynn participated in Operations Desert Shield/Storm and Uphold Democracy.
Charlie's operational prowess was rewarded with numerous tactical and operational assignments at the highest levels of our Armed Forces. He has served as an Operations Officer in the 25th Infantry Division at battalion, brigade, and division level. After the 25th Infantry Division, Major Flynn served as a Joint Plans and Operations Observer/Trainer at the Joint Warfighting Center, United States Joint Forces Command, Suffolk, Virginia.
In 2002, Lieutenant Colonel Flynn was assigned as the Commander, 2nd Battalion, 504th Parachute Infantry Regiment, 82nd Airborne Division; and during this period, the battalion participated in both Operation Enduring Freedom and Operation Iraqi Freedom. He then served as the Operations and Plans Officer, 82nd Airborne Division. Following this training, Colonel Flynn commanded the 1st Brigade Combat Team, 82nd Airborne Division; and shortly thereafter, he participated in Operation Iraqi Freedom. This deployment marked the third tactical command where he expertly trained and led soldiers in over a decade in combat operation.
In an effort to take advantage of Colonel Flynn's extensive operational and combat experience, the Army assigned him as the Executive Officer to the Director of the Joint Staff in the Pentagon. He returned to Afghanistan as the Executive Officer to the Commander, International Security Assistance Forces in support of Operation Enduring Freedom in July 2010 under General McChrystal.
Later that year, he was assigned to Fort Leavenworth, Kansas where he served as the Commander, Mission Command Center of Excellence, and the Acting Commanding General, United States Army Combined Arms Center. Before returning back to Fort Bragg and assuming duties as the Deputy Commanding General for Operations, 82nd Airborne Division, Lieutenant General Flynn was assigned to the United States Army Forces Command, Fort Bragg, North Carolina, where he served as both the Special Assistant to the Commanding General and the Chief of Staff, Forces Command (FORSCOM).
Lieutenant General Flynn commanded the 25th Infantry Division, Schofield Barracks, Hawaii and then became the Deputy Command General, United States Army Pacific Command. Lieutenant General Flynn then served as the Assistant Deputy Chief of Staff, G3/5/7, Headquarters Department of the Army prior to assuming the position of Deputy in June 2019.
Lieutenant General Flynn's accomplishments are not limited to operational commands, as he excelled in academics as well. From July 1996 to June 1997, Lieutenant General Flynn was assigned to the College of Naval Warfare, Naval War College, Newport, Rhode Island where he earned a Masters of Arts in National Security and Strategic Studies. Additionally, while assigned to the Joint Advanced Warfighting School, part of the National Defense University, he earned a Master of Science Degree in Joint Campaign Planning and Strategy.
Lieutenant General Flynn's awards and decorations include the Distinguished Service Medal with 1 Oak Leaf Cluster, Legion of Merit with two Oak Leaf Clusters, Bronze Star with four Oak Leaf Clusters, Defense Meritorious Service Medal with one Oak Leaf Cluster and the Meritorious Service Medal with two Oak Leaf Clusters. He also earned the Combat Infantry Badge with Star, Expert Infantry Badge, the Joint Chiefs of Staff Identification Badge and Master Parachute Badge. Additionally, he is Ranger, Airborne, Air Assault, and Pathfinder qualified.
Since graduating from URI, Lieutenant General Flynn has remained an ardent supporter of the ROTC program. He has maintained contact with the cadets and the Army ROTC program through his generous support of ROTC functions. He has spent his entire life serving his community and nation during peace and war. His exemplary devotion to duty, personal bravery and outstanding leadership is in the highest traditions of the military service and reflect great credit upon himself, his family and the University of Rhode Island.
Lieutenant General Charles A. Flynn and his wife Kathleen and they have three children Molly, Sean, and Tara.