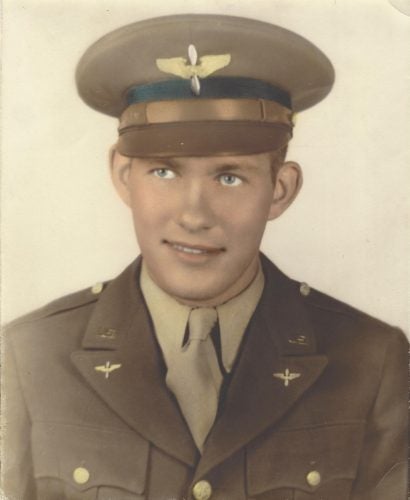 Biography
Edgar Percy Beaver was born in Groton, Connecticut on 23 December 1921. He was the son of Edward J. and Gladys Beaver. The family moved to Barrington, Rhode Island in 1924. Edgar graduated from Barrington High School in 1941. He was an outstanding student and participated in many activities to include football in high school. Edgar entered Rhode Island State College in September 1941 with the Class of 1945. He was a member of Sigma Alpha Epsilon fraternity and participated in the Army ROTC program. He enlisted in the U.S. Army Air Forces Flight Officer Program in October 1943.
"Flight Officer" was a U.S. Army Air Forces commissioned officer rank used during World War II from 1942 to 1945. Flight officers served as navigators, flight engineers, bombardiers and pilots. Private Edgar Percy Beaver graduated from the ten week U.S. Army Air Forces preflight training program, a combination of enlisted basic training and officer candidate school. He was assigned as a cadet at The Flying/Aviation Cadet Training Program, U.S. Army Air Forces Training Center, Maxwell Field, Alabama. Upon completion of flight school, he was awarded his pilot's wings and was commissioned as Flight Officer (FO) and assigned to the 885th Bomb Squadron (Heavy).
The 885th Bomb Squadron operated in the Mediterranean Theater as part of the 15th Air Force stationed in Southern Italy. In October 1944, the 885th was given the mission to augment the transport of supplies and weapons to partisan groups fighting behind enemy lines. On 23 December 1944, Flight Officer Beaver volunteered to fly as co-pilot of the B-24 "Liberator" to drop supplies and equipment to partisan groups in Yugoslavia. After successfully completed their mission, his plane was shot down; and Flight Officer Edgar P. Beaver was killed along with all members of the crew.
His remains were recovered and returned to the United States for burial. He was buried in the Chapel Cemetery, Barrington, Rhode Island with full military honors. For his actions, Flight Officer Edgar Percy Beaver, U.S. Army Air Forces, was cited for Gallantry in Action and Bravery and awarded the Air Medal and Purple Heart (Posthumously).
Flight Officer Beaver's courage and devotion to duty contributed to the success of our forces in defeating the Germans and were in keeping with the highest traditions of the United States Army Air Forces. He was a son of Rhode Island State College who answered the call to service during World War II and gave his life in service to the State of Rhode Island and our country. He was another member of the "Greatest Generation."