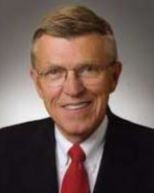 First Lieutenant
Cold War Era
Biography
Robert L. Crandall was born in 1935 in Westerly, Rhode Island. As his family moved around the country during and after WWII, Bob attended 13 schools before graduating from Barrington High School in 1953. He entered the College of William and Mary on an academic scholarship and studied there from 1953-1955. He then transferred to the University of Rhode Island where he majored in Business Administration. Bob was no stranger to the Kingston Campus as both his parents and grandparents were graduates of Rhode Island State College.
While at URI, Bob was active in several business clubs and was a member of Phi Mu Delta Fraternity. He enrolled in Army ROTC and was a member of the Scabbard and Blade Society. After his graduation in 1957, Bob married Jan, his high school sweetheart and reported for duty as a Second Lieutenant at Fort Benning, Georgia where he graduated from the Infantry Officer Basic Course. Shortly after graduation, he learned that the Army was short on operating funds and was seeking officers willing to satisfy their service obligation by means of service in the Army Reserves. Bob was anxious to begin his civilian career, volunteered, and was sent to Fort Devens, Massachusetts prior to being separated from active duty. Bob completed his eight-year service obligation by serving as a member of several units in various locations as he moved from job to job in his civilian career.
After completing active military duty, Bob worked briefly in the insurance industry before receiving a scholarship to the Wharton School at the University of Pennsylvania where he received a Master of Business Administration Degree in 1960. After graduation, he worked at Eastman Kodak from 1960 to 1962 and subsequently worked for Hallmarks Cards in Kansas City until 1966. In 1966, Bob began his career in the airlines industry by joining Trans World Airlines as an Assistant Treasurer. During the following years, he served as Vice President of Data Services and then Vice President and Comptroller before leaving TWA to become Senior Vice President and Treasurer at Bloomingdale's. Finding the retail business less exciting than the airlines, Bob accepted an offer to become Senior Vice President of Finance at American Airlines in April 1973. After his initial service in Finance, he served as Senior Vice President of Marketing; and subsequently, in 1980, he became President and Chief Operating Officer. In 1985, he became Chairman and Chief Executive Officer and served in that role until he retired in April 1998.
The Wall Street Journal has called Bob "the man who changed the way the world flies." During his 25-year tenure at American Airlines, Bob Crandall was instrumental in introducing several changes which revolutionized the travel industry. In 1973, he sponsored a project to modernize American's SABRE computer reservations system, thus laying the groundwork for what eventually became The SABRE Group, now a leading provider of computing and communications services for airlines throughout the world.
In 1975, he created Super Saver Fares which introduced the concept of deep discounts for advance-purchase tickets. Subsequently, he led the development of the industry's first yield management system, a revenue-maximizing approach now used throughout the airline industry. In 1980, Bob created AAdvantage, the industry's first frequent flyer program; and in 1983, he launched an expansion program which more than tripled American Airlines'size and transformed it from a medium-sized domestic carrier to one of the world's leading international airlines with revenues of more than $20 billion.
After retiring from American Airlines, Bob served as a director of many companies including American Express, Halliburton, Anixter, Celestica and GoGo. He remains a Director of GoGo and consults with various companies.
Among the many national and trade publications that have honored Bob Crandall for his achievements and executive leadership are Business Week, Industry Week, Aviation Week & Space Technology, Financial World, and Air Transport World. In April 1997, he received the Horatio Alger Award, which honors individuals who have achieved success despite challenging life circumstances. He has received various other honors including the 2001 Tony Jannus Award for Outstanding Leadership in commercial aviation, the 2004 L. Welch Pogue Award for lifetime achievement in aviation, and the 2006 Wright Brothers Memorial Trophy from the National Aeronautic Association. In 1986, Bob Crandall received an Honorary Doctor of Laws Degree from the University of Rhode Island. He was inducted into the Rhode Island Heritage Hall of Fame in 2001.
Bob has been a major donor and fundraiser for the University of Rhode Island. He and his wife Jan live in Florida and Massachusetts. They have three children and seven grandchildren and enjoy bridge, sailing and gardening. Bob Crandall's outstanding leadership and innovation as well as his devotion to the military, his businesses and communities reflect great credit upon himself, his family, our country and the University of Rhode Island.