The Office of Enrollment Services has a REGISTRATION section on their website with step-by-step guides. Check it out at https://web.uri.edu/enrollment/registration-and-records/

Prep TODO List:
To get ready to register, please check your unofficial transcript in eCampus to make sure any/all credits from high school are posted. If not, get the official scores or college transcripts sent to URI.
How do I even know when I can register? Appointment times are on your dashboard in eCampus. Your time is on the right side under the to-do list and holds.
Please check your hold/to-do lists on eCampus. Click on details to resolve BEFORE your registration time. Some of you have an advisor hold, thus you need to make an appointment to see your advisor unless your URI101 instructor or college is doing a group session and removing your advisor hold.
How do I make an appointment with my advisor? Through "Starfish." Here is a how-to: web.uri.edu/advising/advising-resources/make-an-advising-appointment/ When you log in to Starfish you will see your major and advisor options to make an appointment. OR – you can change your major and see the new advisor to officially declare and discuss Spring courses!
Courses in Honors are up: https://web.uri.edu/honors/courses/
Curriculum sheets can help you map things out: https://web.uri.edu/advising/advising-by-major/
---
Find curriculum sheet
Click on the major
Scroll down to "Curriculum Sheets" and click on the sheet that matches the year the student started at URI
Add Classes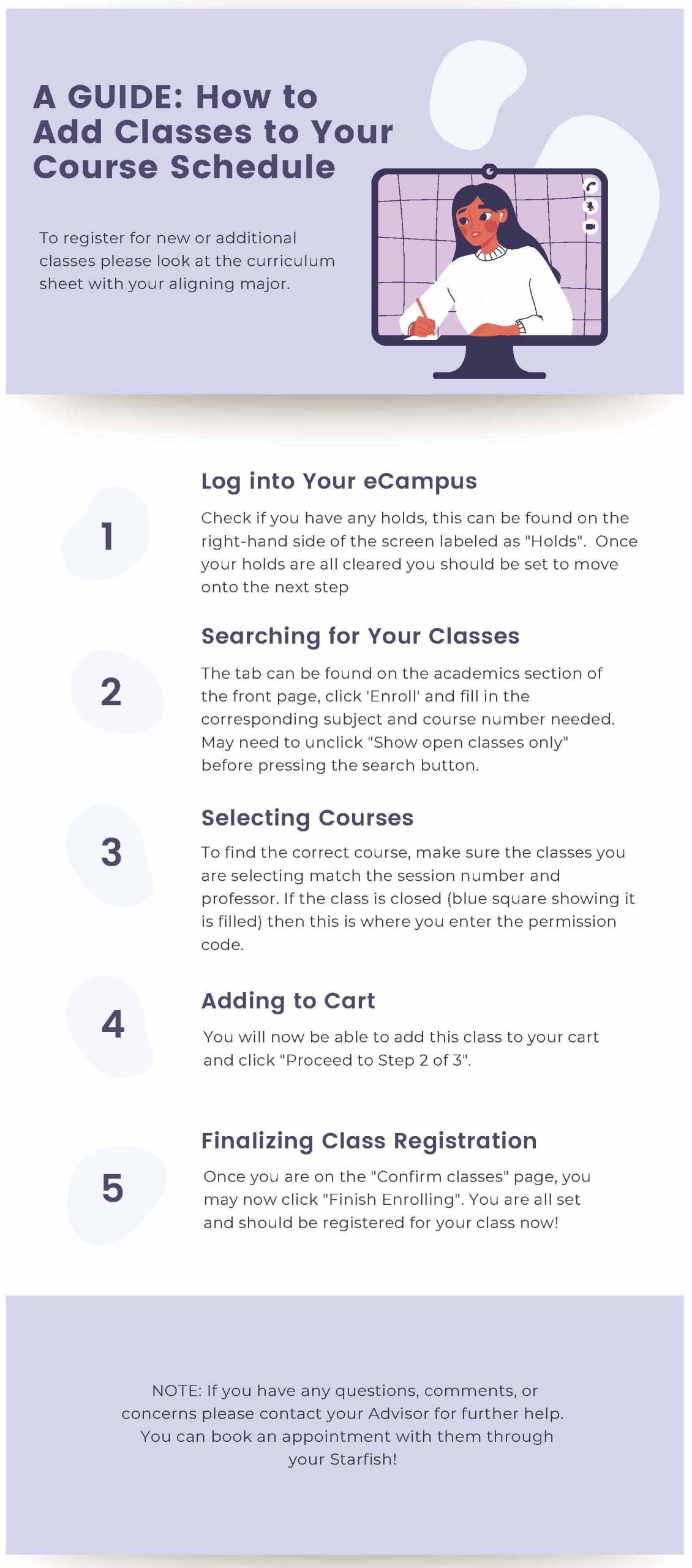 Drop Classes
Dismiss message
Students should NEVER drop a course before meeting with their academic advisor.
Dropping courses does not ensure that you can pick up another.
Dropping courses can prevent graduating on time.
Dropping courses may also affect Financial Aid or any scholarship and Grants.
If full-time, one must have 12 credits or more, nothing less.
Steps:
Click enroll (found to the left of your current course schedule on your ecampus home page).
Click Drop on the top left next to Add
Select the class you would like to drop by check marking it
Hit " Drop Selected Classes"
Click "Finish Dropping" on the bottom right.
After that you should see a green check mark to indicate that you have successfully dropped that course. And you're all set !
Plug in/Use a Permission #
Click enroll (found to the left of your current course schedule on your ecampus home page).
Click Search (below where it says Enter)
Search for the Subject and type in the course number for the class you are trying to join.
Unclick where it says "Show Open Classes Only"
Click Search (All the way at the bottom)
Look for the right course you're trying to join and double check it the correct session number is in the left and professor who provided the permission code ( it's okay if the course is closed and it has a blue square, remember you have a permission number)
Click Select
Where it says Permission Nbr type the code the professor provided you with through email or via person.
Click Next
Now it should be added to your cart, below it should say Proceed to step 2 of 3, click that.
Click Finish Enrolling and you should be all set !!
Find a Gen Ed
Enrolling in a Gen Ed:
Click enroll ( found to the left of your current course schedule on your ecampus home page).
Bubble in the term fall 2021
In the box titled shopping cart, click search
Scroll down to the last filter titled course outcome.
Highlight the outcome you are searching (A4 for example)
Click search.
The system may ask you if you wish to view over 50 courses – Yes, we love options! Click ok.
All the A4 courses will come up and you can choose any course on that list that you'd like. Please feel most welcome to ask my opinion on any course you feel you may need more information on!
Check for Flags