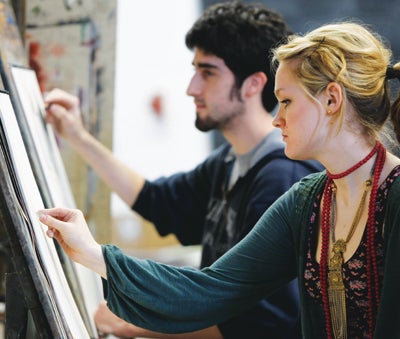 Seen as a basic impulse that defines fundamental forms of visual and spatial expression, our students are challenged to explore all possibilities of what a drawing can be, including conceptual approaches and principles that best convey ideas and intentions.
Our faculty emphasizes relationships drawn from observation, interpretation, and imagination, exposing students to approaches and methods of drawing in contemporary, cultural, social, historical and global critical contexts. To this end, intensive work with the human figure, still life, and thematic content allow for exploration and experimentation of drawing techniques as they relate to the visual representation and organization of elements such as line, shape, light, texture and space.
Our Goals
Show traditional and emerging trends in the field of drawing through historical and contemporary contexts
Instill self-discipline while fostering an atmosphere of freedom
Create personal interest within each student that leads to strong self-directed concepts, and a process of executing that concept into a final project.
Continue to foster a place where interdisciplinary learning culminates into high levels of experimentation and exploration.
Our Facilities
Our drawing program has two large drawing rooms at its disposal. It also utilizes the department's design room where two large-format printers are housed for digital projects in painting and drawing, and the department's project gallery where in-progress drawing projects are often displayed for intensive critiques. Drawing students are also strongly encouraged to incorporate printmaking, digital media, wet media techniques, and photographic skills into their work.