Program Assessment
New Programs
Proposals for new programs and certificates must include:
program goals and program-level student learning outcome statements
a curriculum map that links outcomes to curricular and course experiences and requirements
an assessment timeline to map out the assessment projects for the next three biennial reporting cycles.
Proposal Process and Expectations
Faculty developing a proposal must complete the New Program Assessment Plan in consultation with the Assessment team who will provide support throughout the program proposal planning process.
The completed Assessment Plan is reviewed by a subcommittee of Learning Outcomes Oversight Committee (LOOC, New Program Assessment Plan Rubric) with feedback returned to the department which is to be included in the final program proposal package for the Faculty Senate.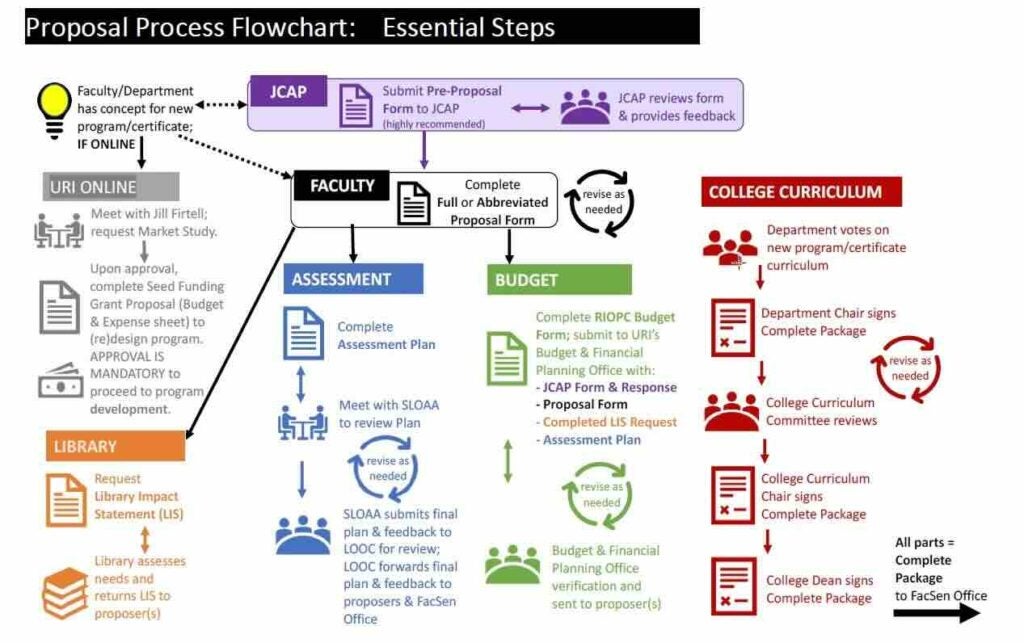 This flowchart provides a general overview of the new program proposal process. It is important to note that several processes in the flowchart can be undertaken concurrently, e.g., the library impact statement, budget paperwork, the proposal materials, etc. Timing of all approvals has to be carefully considered and mapped to ensure a new program has the appropriate approvals to launch when anticipated.
Please review the Faculty Senate website for their current and specific curriculum procedures. Be aware that colleges and graduate programs may have their own additional, unique curriculum or procedural requirements and timelines.
Note: If you are planning a new ONLINE program or certificate, please also reach out to URI Online.
Need Help?
Contact us: assess@uri.edu