Overview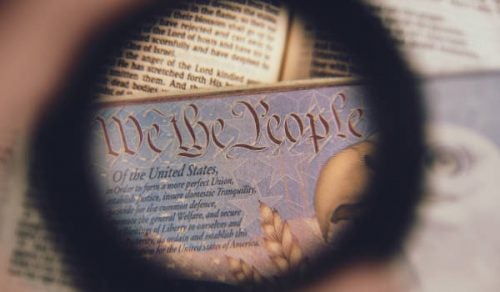 The minor in justice, law and society at URI is designed to provide students with a critical examination of the intersection of social justice, criminal justice, and the law. Among the issues students will confront are the distribution of wealth, power, and property; the relationship of social inequalities to crime; inequities in the administration of law; and the law as an instrument of social change.
Although beneficial for all students, this course of study is particularly recommended for those contemplating careers in the law, criminal justice, education, and human services.
Course Descriptions for Interdepartmental Minors.
Requirements
Students declaring a minor in justice, law, and society are required to complete a minimum of 18 credits. At least 3 credits must be completed in each of the three categories of courses: law, social justice and criminal justice. Several of the courses have prerequisites (designated with an asterisk) not included in this program; students are responsible for completing these prerequisites prior to enrolling in the course. Other courses, such as topics courses, may be approved for credit by the program coordinator.
Courses in a student's major cannot be used for the minor unless the courses are not required by the major and are in excess of the credits required by the major. Additional topics courses may be approved for use in the minor by the program coordinator.
Law
AAF 372 – African-Americans and the Legal System
ECN 337 – Industrial Organization and Public Policy *
ECN/PSC 333 – Economics and the Law *
ENG 356 – Literature and the Law *
HDF/SOC 437 – Law and Families in the U.S. *
PSC 369 – Legislative Process and Public Policy *
PSC 371 – The Constitution and the Supreme Court
PSC 388 – The American Legal System *
PSC 472 – Civil Liberties *
Social Justice
AAF 201 – Introduction to African-American Studies
AAF 230 – Black Lives Matter Movement
AAF/PSC 380 – Civil Rights Movement
AAF/PSC/ECN 415 – Dynamics of Social Change in the Caribbean
APG 311 – Native North Americans
ECN 381(H) – Radical Critiques of Contemporary Political Economy *
ECN/GWS 386 – The Economics of Race, Gender and Class *
EDC 103G – Education and Social Justice
GWS 150(H) – Introduction to Gender and Women's Studies
GWS 310 – Race, Class and Sexuality in Women's Lives *
GWS 320 – Feminist Thought into Action *
GWS 325 – International Women's Issues *
GWS 402 – Campaigns and Services for Victims of Trafficking and Slavery *
GWS 430 – Women and Human Rights Policy *
HIS 146 – Women in the U.S., 1890 – Present
HIS 328(H) – The Holocaust *
HIS 344(H) – History of the North American Indian *
HIS 346 – Immigration, Ethnicity and Race in America *
HIS 349 – History of American Labor *
HIS 352 – Topics in the History of Women and Gender *
HIS 385 – Revolution and Unrest in Central America and the Caribbean *
HIS/AAF 150(H) – Introduction to African-American History
HIS/AAF 355 – Black Women in the U.S.: Colonial Times to the Present *
HIS/AAF 356 – Black Urban History: Late 19th and 20th Centuries *
HIS/AAF 359 – History of Slavery in America *
HIS/AAF 366 – Twentieth Century Black Politics and Protest *
MAF/HIS/GWS 373 – Environmental Injustice
MUS 301 – Music as a Form of Social Protest
PHL 210 – Women and Moral Rights
PHL 217 – Social Philosophy
PHL 314 – Ethical Problems in Society and Medicine *
PHL 318(H) – Power/Justice: Contemporary Critical Philosophies *
PSC 435 – Theories of International Conflict *
PSC/AAF 408(H) – African Governments and Politics *
PSC/AAF 466(H) – Urban Problems *
PSC/GWS 441 – Women and Politics *
PSY 480 – The Psychology of Women *
PSY/NVP 425 – Peace Psychology *
SOC 242 – Sex and Gender
SOC 413 – Gender Inequality *
SOC 438 – Aging in Society *
SOC 452 – Class and Power *
SOC/AAF 240 – Race and Ethnic Relations
SOC/AAF 428 – Institutional Racism *
Criminal Justice
CCJ/SOC 230(H) – Crime and Delinquency
CCJ/PSC 274(H) – Criminal Justice System
CCJ 280 – Introduction to Policing *
CCJ 331 – Punishment and Corrections *
CCJ 332 – Juvenile Justice *
CCJ 370 – Theories of Crime and Delinquency *
CCJ 403 – Gender, Crime, and Justice *
CCJ 410 – Race, Crime, and Criminal Justice *
CCJ 450 – White Collar Crime *
CCJ/PSC 476 – Policy Issues in Criminal Justice *
GWS 370 – Sex Trafficking *
GWS 401 – Human Trafficking and Contemporary Slavery *
PSY 254(H) – Behavior Problems and Personality Disorders *
PSY 261 – The Alcohol-Troubled Person: Introductory Concepts
PSY 275 – Alcohol Use and Misuse *
PSY 335 – Psychology of Social Behavior *
PSY 460 – The Substance-Troubled Person
PSY 465 – Introduction to Crisis Intervention *
PSY 466 – Child Sexual Abuse *
SOC 420 – Family Violence *
Steps to Take