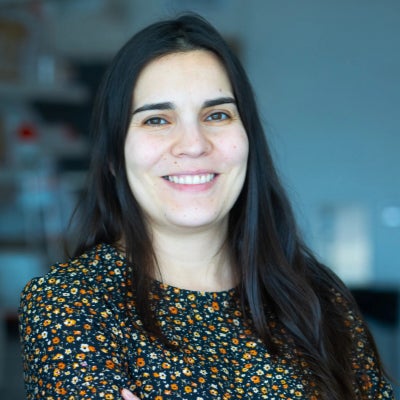 Assistant Professor
Chemical Engineering
Phone: 401.874.6885
Email: iandreu@uri.edu
Office Location: Fascitelli Center for Advanced Engineering, Rm 308
Research
Magnetic nanoparticles
Biomaterials
Nanoparticle assisted drug delivery
Nanomaterial Safety
Education
Ph.D., Physics, Universidad de Zaragoza, 2015
M.S., Physics and Physical Technology, Universidad de Zaragoza, 2011
Lic. Physics, Condensed Matter concentration, Universidad de Zaragoza, 2010
Selected Publications
Shahjin F, Patel M, Hasan M, et al. Development of a porous layer-by-layer microsphere with branch aliphatic hydrocarbon porogens.
Nanomedicine: Nanotechnology, biology and Medicine,
2022l 48, 102644. doi: 10.1016/j.nano.2022.102544
Shahjin F, Patel M, Machhi J, et al. Multipolymer microsphere delivery of SARS-CoV-2 antigens.
Acta Biomaterialia,
2022. doi: 10.1016/j.actbio.2022.12.043
Oliveira TTO, Abbasi A, Andreu I, Bose A. Plasmon-Tuned Particles for the Amplification of Surface-Enhanced Raman Scattering from Analytes.
Langmuir,
2022. doi: 10.1021/acs.langmuir.2c02451
Nadeem A, Brown EA, Radford M, Andreu I, Gates BD, Rider DA. Improved Resilience and Uniformity in Polysulfone Blends from an Accelerated Grafting Ring-Opening Polymerization Reaction with Benzoxazine.
Macromolecules,
2021; 54(21), 10017-10030. doi: 10.1021/acs.macromol.1c0613
Andreu I, Ngo TM, Perez V, et al. Contact transfer of engineered nanomaterials in the workplace.
Royal Society Open Science,
2021; 8(8), 210141. doi: 10.1098/rsos.210141
Abdallah BB, Andreu I, Chatti A, Landoulsi A, Gates BD. Size Fractionation of Titania Nanoparticles in Wild Dittrichia Viscosa Grown in a Native Environment.
Environmental Sciences and Technology,
2020. doi: 10.1021/acs.est9b07267
Taylor A, Andreu I, Louie M, Gates BD. Electrochemically Aged Ni Electrodes Supporting NiFe 2O 4 Nanoparticles for the Oxygen Evolution Reaction.
ACS Applied Energy Materials,
2019. doi: 10.1021/acsaem.9b01644
Andreu I, Urtizberea, Natividad E. Anisotropic self-assemblies of magnetic nanoparticles: experimental evidence of low-field deviation from the linear response theory and empirical model.
Nanoscale,
2019; 12(2). doi: 10.1039/C9NR05946F
Abdallah BB, Zhang X, Andreu I, et al. Differentiation of Nanoparticles Isolated from Distinct Plant Species Naturally Growing in a Heavy Metal Polluted Site.
Journal of Hazardous Material,
2019; 386, 121644. doi: 10.1016/j.jhazmat.2019.121644
Ali RF, Andreu I, Gates BD. Green Solvent Assisted Synthesis of Cesium Bismuth Halide Perovskite Nanocrystals and the Influences of Slow and Fast Anion Exchange Rates.
Nanoscale Advances,
2019; 1(11), 4442-4449. doi: 10.1039/C9NA00586B
Kang H, Ali RF, Paul MTY, et al. Tunable Functionalization of Silica Coated Iron Oxide Nanoparticles Achieved through a Silane-Alcohol Condensation Reaction.
Chemical Communications,
2019; 55(70). doi: 10.1039/C9CC03969D
Ballegooie CV, Man A, Andreu I, Gates BD, Yapp D. Using a Microfluidics System to Preproducibly Synthesize Protein Nanoparticles: Factors Contributing to Size, Homogeneity, and Stability.
Processes,
2019; 7(5), 290. doi: 10.3390/pr7050290
Taylor A, Andreu I, Gates BD. Regular dimpled Nickel Surfaces for Improved Efficiency of the Oxygen Evolution Reaction.
ACS Applied Energy Materials,
2018; 1(4). doi: 10.1021/acsaem.8b003388
Recent Grants
7/28/2023. PI. Rhode Island Space Grant - Brown University
. "Leveraging magnetic separations to enable particle removal in Martian water reuse"
3/21/2023. PI. NSF - National Science Foundation. "ERI: Magnetic nanoparticles to fight biofilms."
3/21/2023 PI. NSF - National Science Foundation. "ERI: Magnetic nanoparticles to fight biofilms."
Additional Links