The URI Child Development Center (CDC) in Kingston offers a high-quality year-round preschool program. The CDC enrolls a maximum of 30 children in its two classrooms. The spacious environment gives children opportunities to interact with a variety of different children and materials based on individual interests and learning styles.
Program Options
Morning Preschool Program
8:30am – 12:00noon
Ages 3 to 5
Five days (M – F)
Full Day Preschool Program
8:30am – 3:30pm
Ages 3 to 5
Five days (M – F)
Extended Day Preschool Program
7:45am – 5:00pm
Ages 3 to 5
Five days (M – F)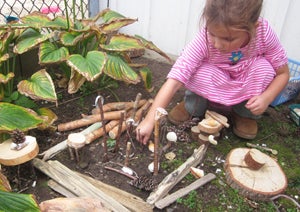 The Director of the Kingston Child Development Center is a professional staff member in Human Development and Family Studies and has extensive experience leading educational programs for young children. The Director also contributes to the learning experiences of the university students by teaching early childhood education courses and supervising practicum experiences at the Child Development Center.
Our teaching staff includes teachers who are certified in early childhood education by the State of Rhode Island Department of Education, and are required to hold a bachelor's degree in early childhood education. Many of our teachers pursue their master's degree and engage in other professional development activities while at the Child Development Center, highlighting their dedication to young children and their families. Meet the staff »
Accreditation and Licensing
The URI Child Development Center is accredited by the National Association for the Education of Young Children (NAEYC), the nation's largest organization of early childhood professionals. The Rhode Island Department of Education (RIDE) has issued full approval for our program through the Comprehensive Early Childhood Education (CECE) approval process. NAEYC accreditation and RIDE CECE approval are rigorous, voluntary processes demonstrating our program's commitment to national and local standards of excellence. The URI Child Development Center has earned a five-star rating from BrightStars, the state's quality rating and improvement system. The CDC is licensed by the Rhode Island Department of Children, Youth, and Families (DCYF).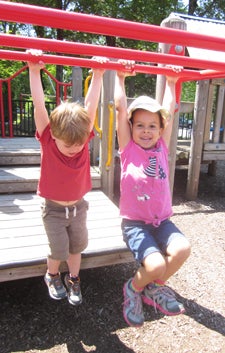 Our Facility
The Kingston CDC is located on Lower College Road on the University of Rhode Island's Kingston Campus. The well-equipped building was specifically designed as a school for young children. The facility has an observation deck to enable observation and instructional interactions with minimal disruption to the ongoing program for children.
Donations
The Child Development Center welcomes donations and gifts in kind to support the program. Learn more about Making a Gift or contact Jessica MacLeod at 401.874.2758 or jldavis@uri.edu.
Enrollment Process
The Child Development Center values diversity and is open to all families. Children must turn three by September 1 to be eligible for the academic year. The enrollment process is outlined below.
Interested families submit an application. Applications must be received by February 15 to be included in the enrollment lottery for the upcoming school year.
An enrollment lottery takes place the first week of March.
Families are contacted with an enrollment offer. The Director meets with families to share information about the program, learn about the children and families, and answer questions. To confirm enrollment, families submit an enrollment commitment form and a non-refundable deposit to hold the spot for their child.
Families complete an enrollment paperwork packet.
Before the child's start date, families schedule a brief transition visit with their child. This visit helps to facilitate a smooth transition into the program for the child, helps teachers become familiar with the child, and gives the family a chance to share and obtain information to help support their child.