Commencement 2021
The University of Rhode Island extends its heartfelt congratulations to graduates of the Class of 2021.
Photo Galleries
---
College Ceremonies
---
---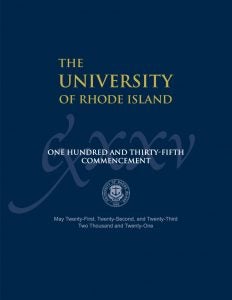 One Hundred and Thirty-Fifth Commencement Program
Download the Program
* Graduates who completed required Enrollment Services paperwork by May 1, 2021 are listed in the program. Academic distinction is based upon grades posted by December, 2020.
---
Show Your Rhody Pride
---
Class of 2021
The University of Rhode Island celebrates the accomplishments of the 4,093 students—3,749 undergraduates and 689 at the graduate level—who make up the Class of 2021. The class represents 35 states and 25 countries, with 54 percent of the undergraduates and 61 percent of graduate students hailing from Rhode Island. The oldest member of the class is 68 and youngest is 17. URI is proud to have 27 veterans in the Class of 2021—15 undergraduates and 12 graduate students. And this year, the undergraduate Class of 2021 boasts 14 sets of twins.
URI's Class of 2021 contains graduates from more than 20 countries.
????????????????????
??????????????????????