Breakfast Power Bowl/ La Taza Poderosa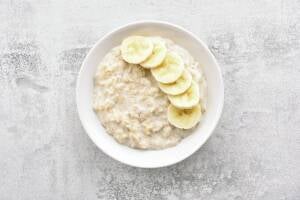 English
Servings per recipe: 1
Serving size: 1 bowl
Prep time: 3 minutes
Cook time: 2½-3½ minutes
Cost: $0.80 per recipe/ $0.80 per serving
Ingredients
1 large egg
1 cup water
½ cup old fashioned oats
½ mashed banana OR 1 tablespoon dried fruit
½ teaspoon cinnamon
1 teaspoon brown sugar
Pinch of salt
Directions
Beat egg with all other ingredients in a microwave-safe bowl or mug.
Microwave on high for 2½- 3½ minutes.
Dismiss message
Money Saving Tip
Beans, canned tuna, peanut butter, and eggs are good, low-cost sources of protein.

Spanish
Porciones por receta: 1
Tamaño de porción: 1 tazón
Tiempo de preparación: 3 minutos
Tiempo de cocción: 2½-3½ minutos
Costo: $0.80 por receta/ $0.80 por porción
Ingredientes
1 huevo grande
1 taza agua
½ taza avena cruda
½ plátano machacado o 1 cucharada fruta seca
½ cucharadita canela
1 cucharadita azúcar morena
Pizca de sal
Preparación
Bata e huevo con todos los demás ingredientes en un tazón o una taza apta para microondas.
Cocine en microondas en nivel alto por 2½-3½ minutos.
Dismiss message
Consejo para ahorrar dinero
Las habichuelas, el atún enlatado, la mantequilla de maní y los huevos son fuentes de proteína buena y barata.
Portuguese
Porções por receita: 1
Tempo de preparação: 3 minutos
Tempo de cozimento: 2½-3½ minutos
Tamanho da porção: 1 tigela
Custo: $0.80 por receita, $0.80 por porção
Ingredientes
1 ovo grande
1 copo de água
½ copo de aveia em flocos grossos
½ banana amassada OU 1 colher de sopa de frutas secas
½ colher de chá de canela
1 colher de chá de açúcar mascavo
Pitada de sal
Modo de Preparo
Bata o ovo com todos os outros ingredientes em uma tigela ou caneca própria para micro-ondas.


Cozinhe no microondas em modo alto por 2½ a 3½ minutos..
Dismiss message
Dica para economizar dinheiro:
A aveia é um alimento integral de baixo custo. Escolha a marca do mercado para ter o melhor preço.