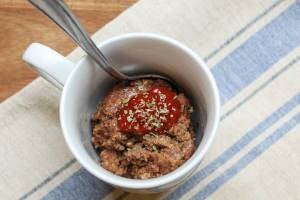 English
Servings per recipe: 1
Serving size: 1 mug
Prep time: 2 minutes
Cook time: 7 minutes
Cost: $1.45 per recipe/ $1.45 per serving
Ingredients
⅕ pound extra lean ground beef
2 tablespoons low-fat milk
1 tablespoon ketchup
1 teaspoon prepared onion soup mix
2 tablespoons quick-cooking oats
Non-stick cooking spray
Directions
In a small bowl, place beef, milk, ketchup, onion soup mix and oats. Mix well.
Spray microwave safe mug with non-stick cooking spray. Place the mixture into the mug. Cover and cook on high for 4 minutes, or until meat is no longer pink. Mug will be very hot. Drain excess liquid.
Let stand for 3 minutes before eating.
Dismiss message
Money Saving Tip
Buy ground beef when it is on sale and use by the expiration date or freeze for later use.
Spanish
Porciones por receta: 1
Tamaño de porción: 1 taza
Tiempo de preparación: 2 minutos
Tiempo de cocción: 7 minutos
Costo: $1.45 por receta/ $1.45 por porción
Ingredientes
⅕ libra carne molida extra magra
2 cucharadas leche baja en grasa
1 cucharada kétchup
1 cucharadita mezcla preparada de sopa de cebolla
2 cucharadas avena de cocción rápida
Aceite en aerosol antiadherente
Preparación
En un tazón pequeño, coloque la carne, leche, kétchup, mezcla de sopa de cebolla y avena. Mezcle bien.
Rocíe una taza apta para el microondas con aceite en aerosol antiadherente. Coloque la mezcla dentro de la taza. Cubra y cocine en alto "high" por 4 minutos o hasta que la carne ya no esté rosa. La taza estará muy caliente. Retire el exceso de líquido.
Deje reposar por 3 minutos antes de comer.
Dismiss message
Consejo para ahorrar dinero
Compre carne molida de res cuando esté en oferta y úsela antes de la fecha de vencimiento o congélela para usarla después.
Portuguese
Porções por receita: 1
Tamanho da porção: 1 caneca
Tempo de preparo: 2 minutos
Tempo de cozimento: 7 minutos
Custo: $1.45 por receita, $1.45 por porção
Ingredientes
⅕ libra (90 g) de carne moída extra magra*
2 colheres de sopa de leite desnatado
1 colher de sopa de ketchup
1 colher de chá de sopa de cebola em pó
2 colheres de sopa de aveia instantânea
Spray antiaderente
Modo de Preparo
Em uma tigela pequena, coloque a carne, o leite, o ketchup, a sopa de cebola e a aveia. Misture bem.
Unte uma caneca própria para o micro-ondas com spray antiaderente. Coloque a mistura na caneca. Tampe e cozinhe em fogo alto por 4 minutos ou até que a carne não esteja mais rosada. A caneca vai estar muito quente. Drene o excesso de líquido.
Deixe descansar por 3 minutos antes de comer.
Dismiss message
Dica para economizar dinheiro
Compre carne moída quando estiver na promoção e use até a data de validade ou congele para usar depois.