Omelet in a Mug / Omelet en una Taza/ Omelete
na Caneca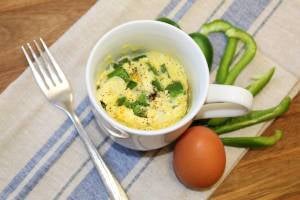 English
Servings per recipe: 1
Serving size: 1 mug
Prep time: 5 minutes
Cook time: 1-2 minutes
Cost: $1.21 per recipe / $1.21 per serving
Ingredients
2 eggs
1 tablespoon 1% low-fat milk
1 tablespoon shredded cheddar cheese, reduced fat
2 tablespoons diced green pepper
2 tablespoons diced onion
Salt and black pepper to taste
Directions
Crack and beat eggs with a fork in a microwave safe mug.
Add milk, cheese, pepper, and onion to the egg mixture. Mix well with a fork.
Microwave for 1 minute and 30 seconds.
Stir omelet. If there is too much liquid, continue to microwave for 30 seconds.
Remove from microwave, add salt and pepper to taste and enjoy!
Dismiss message
Money Saving Tip
Beans, canned tuna, peanut butter, and eggs are good, low-cost sources of protein.
Spanish
Porciones por receta: 1
Tamaño de porción: 1 taza
Tiempo de preparación: 5 minutos
Tiempo de cocción: 1-2 minutos
Costo: $1.21 por receta / $1.21 por porción
Ingredientes
2 huevos
1 cucharada leche 1% baja en grasa
1 cucharada queso cheddar rallado, reducido en grasa
2 cucharadas pimentón verde picado
2 cucharadas cebolla picada
Sal y pimienta negra a gusto
Preparación
Abra y bata los huevos con un tenedor en una taza apta para el microondas.
Agregue la leche, el queso, el pimentón y la cebolla a la mezcla de huevo. Mezcle bien con un tenedor.
Cocine en el microondas por 1 minuto y 30 segundos.
Revuelva el omelet. Si hay demasiado líquido, déjelo en el microonda durante 30 segundos.
Retire del microondas, agregue la sal y pimienta al gusto y ¡disfrute!
Dismiss message
Consejo para ahorrar dinero
Las habichuelas, el atún enlatado, la mantequilla de maní y los huevos son fuentes de proteína buena y barata.
Portuguese
Porções por receita: 1
Tamanho da porção: 1 caneca
Tempo de preparo: 5 minutos
Tempo de cozimento: 1 a 2 minutos
Custo: $1.21 por receita, $1.21 por porção
Ingredientes
2 ovos
1 colher de sopa de leite com teor de gordura
1 colher de sopa de queijo cheddar com teor de gordura reduzido, ralado
2 colheres de sopa de pimentão verde em cubos
2 colheres de sopa de cebola em cubos
Sal e pimenta-do-reino a gosto
Modo de Preparo
Quebre e bata os ovos com um garfo em uma caneca adequada para microondas.
Adicione o leite, o queijo, a pimenta e a cebola à mistura de ovo. Misture bem com um garfo.
Cozinhe no microondas por 1 minuto e 30 segundos.
Mexa a omelete. Se houver muito líquido, cozinhe no microondas por mais 30 segundos.
Retire do microondas, adicione sal e pimenta a gosto e aproveite!
Dismiss message
Dica para economizar dinheiro
Os ovos são uma fonte de proteína saudável e de baixo custo.