Tuna Waldorf Salad / Ensalada Waldorf de Atún/ Salada Waldorf de Atum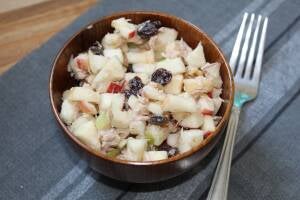 English
Servings per recipe: 3
Serving size: ½ cup
Prep time: 10 minutes
Cook time: 0 minutes
Cost: $3.93 per recipe / $1.31 per serving
Ingredients
1 (5 ounce) can chunk light tuna, in water, drained
2 small apples, cored and chopped
1 tablespoon lemon juice
¼ cup chopped celery
3 tablespoons raisins
3 tablespoons chopped walnuts
2 tablespoons mayonnaise
½ teaspoon sugar
a pinch of cinnamon
Directions
Drain tuna.
In a large bowl, combine apples and lemon juice. Add celery, raisins, walnuts and tuna.
In another bowl, combine mayonnaise, sugar, and cinnamon to make the dressing.
Pour the dressing over the tuna mixture. Mix well.
Dismiss message
Money Saving Tip
Tuna is a healthy, low-cost source of protein.
Spanish
Porciones por receta: 3
Tamaño de porción: ½ taza
Tiempo de preparación: 10 minutos
Tiempo de cocción: 0 minutos
Costo: $3.93 por receta / $1.31 por porción
Ingredientes
1 lata (5 onzas) atún "chunk light," en agua, colado
2 manzanas pequeñas, sin semillas y cortadas en pedazos
1 cucharada jugo de limón
¼ taza apio picado
3 cucharadas uvas pasas
3 cucharadas nueces picadas
2 cucharadas mayonesa
½ cucharadita azúcar
una pizca de canela
Preparación
Cuele el atún.
En un tazón grande, combine las manzanas y el jugo de limón. Agregue el apio, uvas pasas, las nueces y el atún.
En otro tazón, combine la mayonesa, azúcar y canela para hacer el aderezo.
Vierta el aderezo sobre la mezcla de atún. Mezcle bien.
Dismiss message
Consejo para ahorrar dinero
El atún es una fuente de proteína saludable y de bajo costo.
Portuguese
Porções por receita: 3
Tempo de cozimento: 0 minutos
Tamanho da porção: ½ copo
Custo: $3.93 por receita, $1.31 por porção
Ingredientes
1 lata (5 onças) de atum leve triturado, enlatado em água, drenada
2 maçãs pequenas, sem caroço e picadas
1 colher de sopa de suco de limão
¼ copo de aipo picado
3 colheres de sopa de uvas passas
3 colheres de sopa de nozes picadas
2 colheres de sopa de maionese
½ colher de chá de açúcar
Uma pitada de canela
Modo de preparo
Escorra o atum.
Em uma tigela grande, misture as maçãs e o suco de limão. Adicione o aipo, passas, nozes e atum.
Em outra tigela, misture maionese, açúcar e canela para fazer o molho.
Despeje o molho sobre a mistura de atum. Misture bem.
Dismiss message
Dica para economizar dinheiro
O atum é uma fonte de proteína saudável e de baixo custo.