You're a reader, a writer, an observer. Stories and characters, poems and images color the way you see the world. You ask hard questions, knowing there are many answers, a world of stories, and countless ways to tell the truth.
As an English major at the University of Rhode Island, you join a community of scholars and writers who understand the power of language and creative expression. Here we offer you a place where you can be at home, develop your own interests, and discover the stories you want to share.
---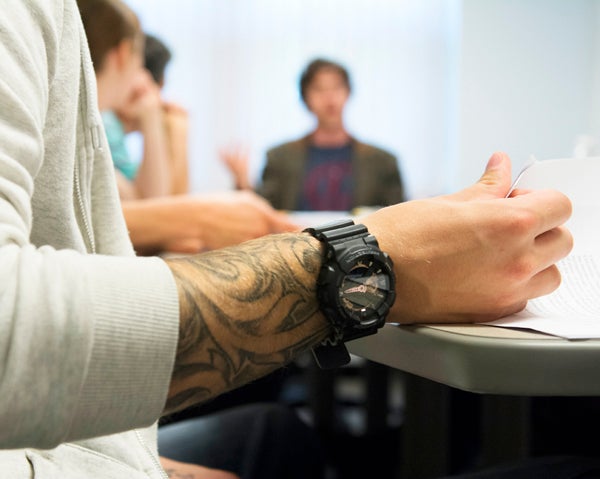 Creative Writing
Creative writing is an important component of all of our degree programs. You will study with prize-winning authors and poets, be encouraged to publish your work and to participate in a variety of URI creative writing initiatives, including the Ocean State Review.

---
The URI Difference
Design Your Major
URI's unique English major encourages you to design a curriculum that grows out of your own literary interests. You'll take one core course, explore certain historical periods, and include creative writing courses if you like.
Work With the Best
Here you will work one-on-one with prize-winning scholars and writers. Your professors are experienced, enthusiastic teachers who will challenge you, encourage your interests, offer you guidance, and support your goals.
Gain Valuable Career Skills
A major in English equips you with the reading, writing, and critical thinking skills employers value. The major's career versatility extends to writing and editing, teaching, advertising, corporate and nonprofit work, the law, and beyond.
---
---
Recent News
See All News