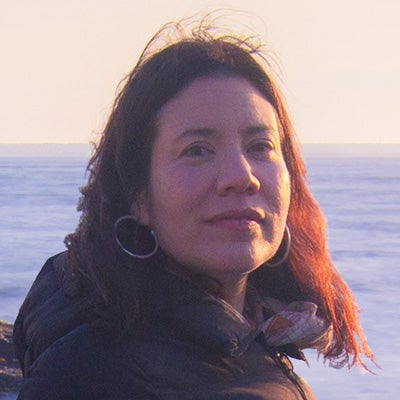 Associate Professor; Professor, Director of Graduate Studies; Director, Rumowicz Literature of the Sea Lecture/Seminar Series
Phone: 401.874.7880
Email: martharojas@uri.edu
Office Location: 109 Swan Hall
Biography
Professor Rojas studies early American literature and culture with an emphasis on the literature of politics and personal narrative in the colonial and early national periods. Long fascinated with tales of rogues, tricksters, and go-betweens, her research and teaching engage extensively with nineteenth century literature and culture, hemispheric cultural and political movements, and maritime and oceanic literature.
Her first book Diplomatic Letters: Becoming a Nation Among Nations in Early America is under contract with the University of Pennsylvania Press. This work claims diplomatic writing as belonging to a culture of letters as much as to the business of the state. It reorients the critical approach to such writing by examining public documents as and alongside other literary and cultural objects that emerge from the interaction of governments insisting that diplomatic writing not be relegated merely to the status of the "document" or the category of "evidence." Attending to works of figures like Thomas Jefferson, Benjamin Franklin, John Adams as well as David Humphreys, Joel Barlow, Susanna Rowson, and James Leander Cathcart, this project considers cultural forms produced in and for negotiations with "foreign" nations, exchanges that bring to the fore the contradictions of "Americanness" even as each strives to present a coherent United States.
Her interests in maritime and oceanic literary studies have developed in tandem with her involvement in the Edmund S. and Nathalie Rumowicz Program in Literature and the Sea. Her second book project provisionally entitled, The View from the Shore, is a study of the coastal imagination that participates in current efforts by scholars like Jeffrey Bolster, Steve Mentz and Helen Rozwadowski to "historicize the oceans" in order to better understand the meanings of maritime expansion as well as the material consequences and ethical implications for today's maritime world. Observing that scholars of U.S. maritime literature have paid little attention to histories, poems, and fiction that take place on or within view of the shore, her work makes manifest preoccupations with matters of empire, colonialism, and race already present in works of J. Hector St. John de Crèvecœur, James Fenimore Cooper, Richard Henry Dana and Herman Melville. Rethinking what counts as maritime literature makes room for texts like The Life of John Thompson, a slave narrative that recounts escape from re-enslavement by enlisting on a whaling vessel; for Walt Whitman's seaside reveries, which record and contemplate the ocean's movements and emblematic power without taking their narrator or the reader out to sea; and for writers like Sarah Orne Jewett whose work is primarily understood as an example of nineteenth century regionalism despite a corpus of novels set on the Maine coast and characters that include coastal pilots (male and female), retired ship captains, widows of whalers and enterprising female merchants profiting from maritime trade.
Before joining the English department at the University of Rhode Island Professor Rojas taught at Stanford University, at the University of Pennsylvania while a dissertation fellow at the McNeil Center for Early American Studies, and at Sweet Briar College where she held an appointment as the Honors Post-Doctoral Fellow. While teaching eighteenth- and nineteenth-century U.S. literature and culture at URI, her courses have explored the anxieties occasioned by concepts of originality, authenticity, value and representation in a culture that celebrates self-fashioning, lauds honor and exemplary masculinity, and is preoccupied with crime and seduction.
Research
American Literature. nineteenth century literature and culture, hemispheric cultural and political movements, and maritime and oceanic literature
Education
Ph.D., Stanford University
B.A., Harvard University