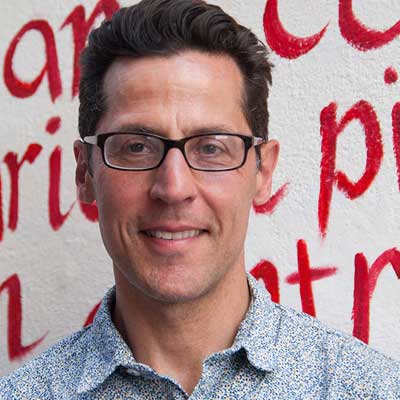 Biography
As a former professional social worker (M.S. Columbia University) who has worked in the fields of foster care, AIDS services, and youth and family services, and as an Italian immigrant, poet, translator, and essayist, Peter Covino's creative writing and research interests continue to be strongly influenced by the interrelationship of ethnic culture, work in translation, and psychosocial identity. He was recently awarded a 2019 National Endowment for the Arts Translation Fellowship; and he has also received recent fellowship grants and residencies from the Richmond American International University of London, the Nida Translation Institute, and the American Academy in Rome, among others. Covino is the author of the poetry collections, The Right Place to Jump (2012); and Cut Off the Ears of Winter (2005) both from W. Michigan University Press, New Issues.
Additional prizes include: the 2007 PEN/American Osterweil Award; the Paterson Poetry Prize for Literary Excellence; and the Frank O'Hara Prize for his chapbook, Straight Boyfriend (2001).
Covino's poems have appeared widely in America and Italy in such publications as the Academy of American Poets' Poem-a-day, American Poetry Review, Atelier, Cincinnati Review, Colorado Review, Gulf Coast, Hayden's Ferry Review, Journal of Italian Translation, Leggendaria, New Orleans Review, The Paris Review, RAI Community TV, tutteStorie, Western Humanities Review, The Yale Review, and The Penguin Anthology of Italian-American Writing, among many others. He is one of the founding editors of Barrow Street Press Inc. (1998) http://barrowstreet.org/press/ that under his direction, with the support of the URI English Department, has published forty-six poetry books with six more under contract or in production. Covino is also the Poetry Editor of VIA: Voices in Italian Americana.
Covino's scholarly work and essays have appeared or are forthcoming in Till One Day the Sun Shall Shine More Brightly: The Poetry and Prose of Donald Revell (2019) University of Michigan Press; Personal Effects: Essays on Memoir, Teaching, and Culture in the Work of Louise DeSalvo (2015) Fordham University Press; Lambda Literary. 9 January (2013); in his coedited essay collection on Italian American Literature (Bordighera, Calandra Institute, CUNY, 2012); the Modern Language Association textbook, Teaching Italian American Literature, Film, and Popular Culture (2010); the Paterson Literary Review; and in two volumes on queer culture from University of Wisconsin Press, among others.
Research
Creative Writing; Avant-Garde and Contemporary Poetry and Poetics; Italian American, Translation, and Ethnic Studies
Education
Ph.D., University of Utah
M.A., City College New York
M.S., Columbia University School of Social Work
B.A., Amherst College