✓
Before You Come
Arrival Date
F-1 and J-1 visa holders may enter the United States 30 days prior to the start of the term. Do not attempt to enter the US more than 30 days prior to the beginning date noted on your I-20 or DS-2019 form.
Point of Entry
Review the information on the U.S. Customs and Border Protection website for any updates.
Travel Light
We recommend that you only bring the most essential items with you so it isn't too hard to carry your luggage from the airport to Kingston. Undergraduate students living on campus can ship items to their URI Campus Mail Box.
Your Budget
Familiarize yourself with living costs in Rhode Island and plan to bring enough U.S. currency to meet initial expenses. The safest and most convenient way of carrying funds is by Traveler's checks. For students relying on scholarships, fellowships and/or assistantships, it may take up to 4 weeks to receive funds. Depending on your country of origin, it can take several weeks to have funds transferred to you after you are in the United States.
Health Information
Please download the URI Health Immunization Record on the Health Services web page. A licensed physician in your country should complete the form in English.
| ✓ | | Prepare Your Documents |
| --- | --- | --- |
| | Visa | Please check the information on your visa to make sure it is accurate. |
| | Passport | Your passport must be valid for at least six months into the future, at all times. |
| | I-20 or DS-2019 | The I-20 form for F-1 student visa and the DS-2019 for J-1 |
| | Letter from URI | You must bring your letter of academic admission or invitation to the University. |
| | Proof of financial responsibility | This may be a bank statement in your name, letters of credit, or proof of anticipated assets if your support comes from family or personal sources, or a financial sponsorship letter if you are sponsored by government or agency. |
| ✓ | | Arriving in the US |
| --- | --- | --- |
| | Customs | A US Customs and Border Protection Officer will review all your documents and ask you specific questions regarding your stay in the US. |
| | Passport | Your passport will be stamped with the notation F-1/J-1 D/S (duration of stay). |
| | Identification | Your two index fingers will be scanned by an inkless device and a photograph of your face will be taken. |
| | Getting to URI | Arrangements can be made for transportation from the airport, bus station, or train station to campus by completing the Arrival Services Form. There will be a transportation fee established by the shuttle service or taxi. |
| ✓ | | Check In at URI |
| --- | --- | --- |
| | Visa | The University of Rhode Island is required to report your arrival to the Department of Homeland Security within 30 days of your program start date. In order to maintain your visa status you must report to the Office of International Student and Scholars at 37 Lower College Road within 10 days of your arrival in the United States. |
| | Documents | Bring your passport and your I-20 or DS-2019 form when making your first visit. |
| | J-1 Visa | J-1 visa holders must provide proof of health insurance |
| | Health Form | Bring your completed URI Health Immunization Record to Health Services. |
We're here to help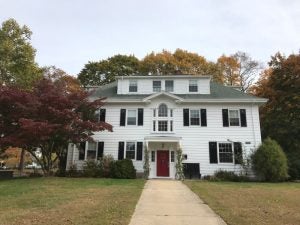 Office of International Students and Scholars
Hours:
Monday – Friday
8:30am – 4:30pm Eastern Time
International Center
37 Lower College Road
Kingston, RI, 02881
issoff@etal.uri.edu
+1.401.874.2395